Chance Is Looking For That
Special Someone To Sponsor Her
Chance was rescued by Equine Voices in 2005 from slaughter. She was one of many Premarin mares that was slated for slaughter if Equine Voices didn't intervene. Chance is a beautiful dunn quarter horse, is sweet and has finally allowed herself to trust humans again. Chance is looking for that special person to help with her feed and care by sponsoring her. Won't you be that special someone?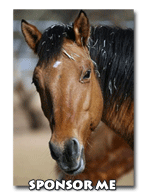 Hello, my name is Chance and I am looking for that special someone to Sponsor me. To make an appointment to visit and meet me at the sanctuary, you can contact the office at info@equinevoices.org or by calling 520-398-2814. I hope to see you soon.

Equine Voices Featured In A New Book Called "Horse Sanctuary"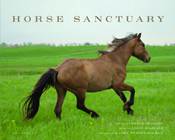 Equine Voices is thrilled to have been chosen as one of the featured sanctuaries in this soon to be released book. In Horse Sanctuary, the writer-photographer team of Allison Milionis and Karen Tweedy-Holmes-both horse lovers and animal welfare advocates-set out across America to document the important work being done by equine rescue organizations and sanctuaries and the diversity of their efforts in this time of crisis.

Horse Sanctuary will be available in stores at the beginning of April for US $40.00. You can read the Press release and pre-order this book through our website by Clicking Here and under Newsflash on the right side of the page for a pre-order price of only US $24.83. By purchasing this book online through our Amazon link on our website you will also have the satisfaction of knowing that 10 percent of your purchases will go to the horses of Equine Voices.

All of us at Equine Voices would like to take this opportunity to thank Karen Tweedy-Holmes, Allison Milionis, Universe Publishing, Rizzoli International Publications, Inc. and everyone involved for this wonderful book about equine rescue organizations.
You're Invited To A WOW Party

Come and enjoy a facial with products from the Dead Sea in Israel.
Pamper yourself like never before!

When: Friday, February 8th at 6:00pm
Where: Equine Voices Ranch @ the Visitor Center

Valentine's Day Gift Sets will be available
20% of all product sales will be given to Equine Voices.

Karin Johnson
Seacret Agent

Click Here for the flyer and for additional information to attend

Don't miss this party as these products will enhance your own unique beauty.

Responsible Horse Breeders Council Formed
Posted by Habitat for Horses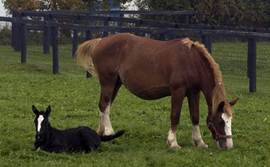 The Humane Society of the United States (HSUS) is forming a "Responsible Horse Breeders Council" composed of horse breeders around the country who are dedicated to improving horse welfare. The goal of the council is to decrease the number of horses in the United States who are at risk of being neglected, abused, or slaughtered [...]

Read more of this post
There Is Still Time To Get that Perfect Gift
For That Special Someone

"GULLIVER" SAYS DON'T FORGET VALENTINES DAY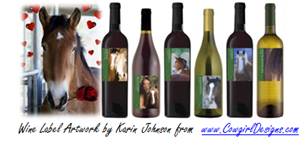 Give your valentine, sweetheart or that special someone the gift that gives back. Select one or all six organic wines and celebrate Valentine's Day by also celebrating the Equine Voices horses. The certified organic and vegan friendly wines Chardonnay, Merlot, Cabernet Sauvignon, Sauvignon Blanc and Pinot Noir are produced on a free trade vineyard in Lontue Valley, Chile. The Sparkling White Wine from Catalunya, Spain is sure to delight your palate as a refreshing and fruity delight. Each label is designed exclusively for Equine Voices.$6.00 from each bottle purchased is donated back to the horses of Equine Voices. All you have to do is click on Benefit Wines/Equine Voices or you can visit Gulliver's Gift Shop on our website store Click Here.

You can also shop for that special someone at "Gulliver's" Gift Shop Click Here. Gulliver has many items to choose from such items as t-shirts, hats, socks and much more with his logo. There is an array of art, jewelry, keepsakes, cards and more that make great gifts.

If you don't find what you want, you can visit Amazon by Clicking Here. By shopping online at Amazon, you will have the satisfaction of knowing that 10% of your purchases will go to the horses of Equine Voices. Visit our website Equine Voices and locate the Amazon logo in the upper right corner of our website or click on the icon below:


Thank You for your continued love & support, "Gulliver" and Friends.

Shop from Gulliver's Wishlist on Amazon

Gulliver's Wishlist is on Amazon! Our wish is that all of you support the mission of Equine Voices. And by simply shopping for the horses by Clicking Here, you can help Equine Voices by giving the horses what they need most. Gulliver's Sherpa, Nancy, will continue to update items needed for all the horses that reside at Equine Voices and those fostered by updating the list regularly.

Nicholas aka "Nick"
Nick's Legacy Fund has been created in Nick's memory in order to help us assist other horses like Nick. Our goal is to raise the necessary funds to offer "over and above" medical services to horses who need that extra special medical assistance, whether it be a prescription, a special supplement, intense treatment or a specialized piece of equipment.

To donate to the Nicholas Legacy Fund visit our website home page Equine Voices Rescue & Sanctuary.

Leave a Legacy: Gulliver & Friends Legacy Fund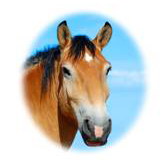 Consider Equine Voices as your charity of choice and help make a difference in the lives of the horses today and beyond by designating Equine Voices in your estate planning.
Click Here to visit our website for more information and how to give.

Thank You "Gulliver"

"Gulliver's" Fan Club
For just $10.00 a month (.33 cents a day), you can support our Big Boy Gulliver, mascot of Equine Voices. Join Gulliver's Fan Club and help make a difference in Gulliver's life! You will receive a special sticker, VIP tour, a personal meeting with Gulliver and updates as to the happenings at the sanctuary. Can you spare just .33 cents a day or one cup of coffee? To join this special program, Click Here and a short ways down the homepage on the right is "Gulliver's" Fan Club Sign Up or contact us at info@equinevoices.org, call the main office at 520-398-2814 or go online and sign up today. It's easy, fun and you will make a huge difference in Gulliver's life!!

Thank You "Gulliver"
Don't forget to check in with Equine Voices new Blog - "Ramblings from the Ranch"...
click here to check it out!
---
Gulliver Fan Club
If you love Gulliver and would like to support the horses at Equine Voices Rescue & Sanctuary, please join "Gulliver's Fan Club". For only $10/month, you can be part of helping Gulliver spread the word about the plight of the foals bred for the PMU industry.
Join The Gulliver Fan Club!

Sponsor a Horse
Sponsoring a horse is a wonderful way to help if you have limited time, space or finances and can't commit to a life time of horse care. With the sponsorship, you will receive a beautifully framed picture of the horse you've chosen and their story. For an annual sponsorship you will also receive a beautiful Cowboys Collectible horse hair key chain. Colors and styles may vary based on availability.
Click Here to Sponsor!
For more info contact us at info@equinevoices.org