Nick aka "Nicholas" Is Looking For
That Special Someone To Sponsor Him
Nick was rescued by Equine Voices in October 2009. Nick was the only survivor of a horrific barn fire and, since has been diagnosed with cancer. We continue to raise the necessary funds to support his treatments and continue to have hope that this wonderful horse will someday live a life free of cancer, burn injuries and one without the memory of the horrible fire. If you would like to help offset Nick's medical costs, and would like to read Nicks' story as well as donate to the Nicholas Fund Click Here, or sponsor Nick for $50 a month.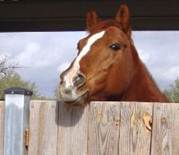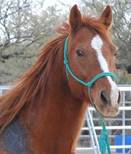 Hello, My Name Is Nick And I
Would Love To Have You Sponsor Me.
If you would like to sponsor Nick, please visit our website Sponsor page. To visit the sanctuary and meet Nick you can contact us at info@ equinevoices.org or by calling 520-398-9312.

Investigation at the Export Pens in Eagle Pass, Texas
How do you commit a crime in the US and get away with it? If you transport horses to a Mexican slaughter plant, you simply cross the border. AA has just returned from a ten day investigation of multiple export facilities & feedlots in Texas. A vastly increased number of slaughter-bound horses was observed, proving the known horse slaughter figures to be disturbingly underestimated. Equine protection laws and regulations continue to be broken and violated, with little regard given to horses embarking a slaughter house death. Sickness, infections, and injuries are all still unvarying incidences. Private pens in both Presidio and Eagle Pass are owned/managed by known kill buyers, enabling horses to disappear secretively, or for the thin, sick and injured to be disposed of quickly.
To Read More On This Article Click Here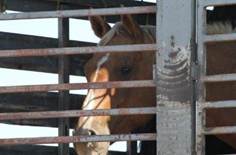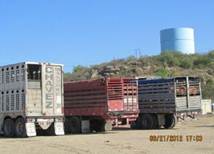 Sixth Annual Wine & Dine Gala Reminder
| | | |
| --- | --- | --- |
| | Gulliver Says That The Wine & Dine Gala Is Fast Approaching . Don't Miss Out On This Wonderful Event And A Very Special Evening. Be Sure And Reserve Your Tickets Now For The Wine & Dine Gala To Benefit The Horses of Equine Voices Rescue & Sanctuary. | |
| | |
| --- | --- |
| What: | Sixth Annual Wine & Dine Gala to benefit Equine Voices Rescue & Sanctuary |
Hosted bar, Complimentary wine glass, Hors d'ouvres with concurrent Silent Auction

Great local/national/international wines and beers: Kief Joshua Vineyards, Santa Fe Brewing Co., Dragoon Brewing Co, New Belgium Brewing Co, Young's Market Co, our very own Equine Voices label designed by artist Allan Mardon (this year of former PMU mare Little Miss and daughter Joy) - bottled by Fallbrook Winery - California

Music by Larry Redhouse

Three course sit down dinner

Live Auction with professional auctioneer Letitia Frye
When:
November 4th, 2012
4:00 pm - 8:30 pm
Where:
The Historic Arizona Inn
2200 East Elm St.
Tucson, AZ 85719
520-325-1541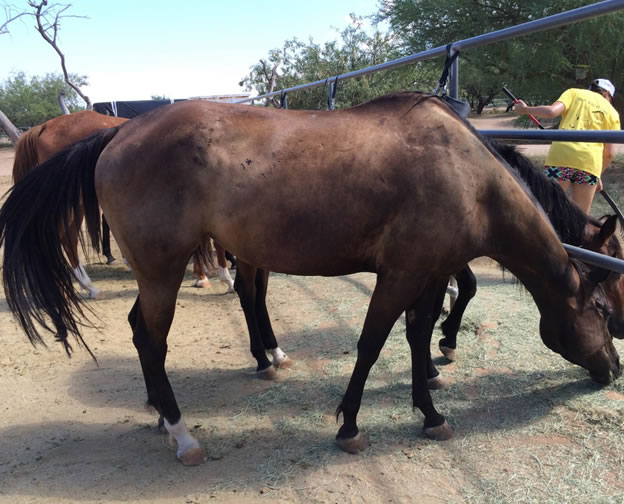 Wine Label By Artist Allan Mardon
Tickets are limited, reserve now!
For more information, reservations or to donate to the silent or live auction, please contact us at 520-398-2814 or email at info@equinevoices.org. Click here for a Donation Form. For more information visit our website at www.equinevoices.org

Healthy You Network Health Fair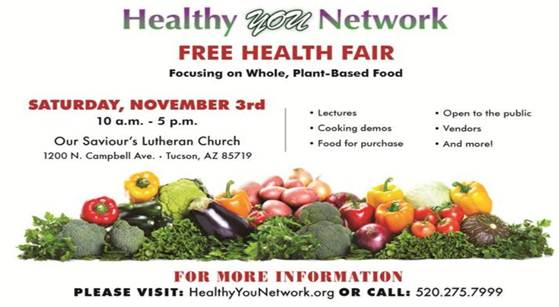 Leave a Legacy: Gulliver & Friends Legacy Fund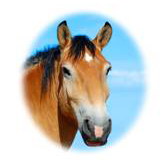 Consider Equine Voices as your charity of choice and help make a difference in the lives of the horses today and beyond by designating Equine Voices in your estate planning.
Visit our website for more information and how to give.

Shop from Gulliver's Wishlist on Amazon

Gulliver's Wishlist is on Amazon is. He has updated his wishlist with some of the much needed items for the horses and the ranch. Click Here to visit Gulliver's Wishlist on Amazon. Gulliver will continue to have his Sherpa, Nancy update his list with new items. If you have any ideas or suggestions you would like to let Gulliver know about that should be considered for addition to Gulliver's Amazon Wishlist, please email his Sherpa, Nancy at nancy@equinevoice.org

"Gulliver's" Fan Club
For just $10.00 a month (.33 cents a day), you can support our Big Boy Gulliver, mascot of Equine Voices. Join Gulliver's Fan Club and help make a difference in Gulliver's life! You will receive a special sticker, VIP tour, a personal meeting with Gulliver and updates as to the happenings at the sanctuary. Can you spare just .33 cents a day or one cup of coffee? To join this special program, Click Here and a short ways down the homepage on the right is "Gulliver's" Fan Club Sign Up or contact us at info@equinevoices.org, call the main office at 520-398-2814 or go online and sign up today. It's easy, fun and you will make a huge difference in Gulliver's life!!

Thank You "Gulliver"

Shop At Amazon And Help The Horses!
Shop at Amazon.com
"Gulliver" would like to invite you to shop at our partners programs and help the horses at the same time! By shopping online at Amazon, you will have the satisfaction of knowing that 10 percent of your purchases will go to the horses of Equine Voices. It's simple, quick and convenient and you never have to leave your home. Click Here and find the Amazon Icon on the top of the homepage, right after the GFAS logo. Or just click on the icons below.
Thank You as always, for your continued love & support, "Gulliver" and Friends
Don't forget to check in with Equine Voices new Blog - "Ramblings from the Ranch"...
click here to check it out!
---
Gulliver Fan Club
If you love Gulliver and would like to support the horses at Equine Voices Rescue & Sanctuary, please join "Gulliver's Fan Club". For only $10/month, you can be part of helping Gulliver spread the word about the plight of the foals bred for the PMU industry.
Join The Gulliver Fan Club!

Sponsor a Horse
Sponsoring a horse is a wonderful way to help if you have limited time, space or finances and can't commit to a life time of horse care. With the sponsorship, you will receive a beautifully framed picture of the horse you've chosen and their story. For an annual sponsorship you will also receive a beautiful Cowboys Collectible horse hair key chain. Colors and styles may vary based on availability.
Click Here to Sponsor!
For more info contact us at info@equinevoices.org