From The Clutches Of Slaughter To Safety
We Need Your Help!!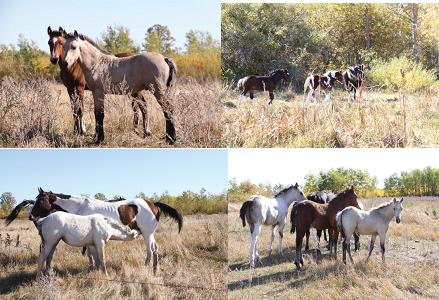 Would you give up coffee for a week or a day's worth of wages to save a life?
Equine Voices, together with Reach out to Horses, Equine Angels Rescue and Ray of Light Farm are in the process of saving 12 foals and securing homes for the remaining mares and stallions that reside at an out of business, former PMU farm in Canada. Equine Voices has committed to taking six of the foals, but we can't do this without your help!
Securing the funding for this rescue will determine the fate of these foals and whether we can bring these gorgeous babies home.
We need to raise the funds to cover the slaughter prices, transportation and border fees.

The breakdown is as follows:
$350 per foal = $2,100
$100 per foal for the border fees = $600
$450 per foal for transportation = $2,700
How Can You Help?
A day's salary could pay for the life of one of these foals. Giving up coffee for a week or one evening out, would help with the transportation home to the sanctuary.
Can you adopt and give one of them a forever loving home?
Would you consider sponsoring a foal for $50 once they arrive home?
How about helping us with special supplements, hoof care and food?
Any amount, large or small will make a huge difference in the lives of these babies!
Help us be a "Voice for the Voiceless" and let's not let them go to slaughter. With your help we can bring these gorgeous foals home to safety and away from the clutches of the Canadian slaughterhouse.
To donate click here or contact us at 520-398-2814 or info@equinevoices.org or visit our website at www.equinevoices.org

Thank you for your support!