"Bella Luna" Is Looking For That
Special Someone To Sponsor Her
This gorgeous girl is one of the original herd members that arrived at the sanctuary in 2004 along with Gulliver, Spanky and Deuce. Bella is often introduced as Gulliver's girlfriend. Bella is looking for that perfect person to sponsor her. Won't you be that person? Click Here to sponsor Bella.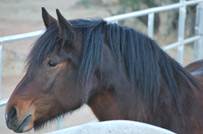 Hello, My Name Is Bella Luna and I am looking for that special someone to sponsor me to help with my feed and care. Won't you be that special someone?
Click here to Sponsor Me.
If you would like to sponsor Bella, please visit our website Sponsor page. To visit the sanctuary and meet Bella you can contact us at info@ equinevoices.org or by calling 520-398-9312.
Beading Divas Bracelet Sales Benefiting Equine Voices
| | |
| --- | --- |
| | For the month of November 2012 "Beading Divas to the Rescue" is donating all proceeds of the sales of their beautiful one-of-kind handmade bracelets to Equine Voices! These gorgeous bracelets make wonderful Holiday gifts for your friends and family and are only $20. To purchase a bracelet and support Equine Voices please visit the following locations. (cash or check only) |

Equine Voices Rescue & Sanctuary, 398-2814

Tucson locations:


Silver Sea Jewelry & Gifts, 330 N. 4th Avenue, 624-9954


Clues Unlimited Mystery Book Store, 3146 E. Fort. Lowell Road (SE corner Country Club), 326-8533 (closed Sun/Mon)


Sissy's Pet Grooming Salon, 7350 N. La Cholla Blvd (in Albertsons Shopping Center), 229-9898


A K Jensen Apparel, (St. Philips Plaza), 4280 N. Campbell Ave., Suite 212, 529-2775

You can also buy them online also here - http://www.etsy.com/shop/Lizziestardust.
If you order online, add %5.50 for S & H. International orders, add $7.50
Equine Voices Holiday Open House

"Gulliver" & Friends would like to invite everybody to come out for our Holiday Open House.

When: Dec 8, 2012
11:00 am – 3:00 pm

Where: Equine Voices Rescue & Sanctuary
Jumpin' Jack Ranch
Amado AZ

Do Your Christmas Shopping At Amazon And Help The Horses!





"Gulliver" would like to invite you to shop at our partners programs and help the horses at the same time! By shopping online at Amazon, you will have the satisfaction of knowing that 10 percent of your purchase will go to the horses of Equine Voices. It's simple, quick and convenient and you never have to leave your home. Click Here and find the Amazon Icon on the top of the homepage, right after the GFAS logo. Or just click on the icons below.
Thank You as always, for your continued love & support, "Gulliver" and Friends.

Shop from Gulliver's Wishlist on Amazon

Gulliver's Wishlist is on Amazon is. He has updated his wishlist with some of the much needed items for the horses and the ranch. Click Here to visit Gulliver's Wishlist on Amazon. Gulliver will continue to have his Sherpa, Nancy update his list with new items. If you have any ideas or suggestions you would like to let Gulliver know about that should be considered for addition to Gulliver's Amazon Wishlist, please email his Sherpa, Nancy at nancy@equinevoice.org

Sixth Annual Equine Voices Wine & Dine Gala
The Sixth Annual Equine Voices Wine & Dine Gala that was held on November 4, 2012 was another HUGE success!

To all of you who helped by volunteering, donating, attending and supporting this wonderful evening, we are eternally grateful to you!

Thank you to our sponsors; The Historic Arizona Inn - especially Reber O'Reilly for his terrific service, Letitia Frye, Allan Mardon - Artist and creator of this year's wine label, Judy Tocco of Tocco Financial Services for this year's Gulliver's wine, Walter Henderson and Phoebe Harris of Walter L Henderson PC for sponsoring the open bar, Carolyn Crowder for her sponsorship of our wonderful live auctioneer - Letitia Frye, Julie Grounds of Central Pet for her sponsorship of this years' wine glasses, Bonnie Jaus and Michael Jayme for their sponsorship of the live music by Larry Redhouse and Dean & Grace Berg for sponsoring the Ice sculpture. In addition, we would like to thank Kief Joshua Vineyards, Michael Payne, New Belgium Brewery, Dragoon Brewery and Santa Fe Brewery. We look forward to our Seventh Annual Wine & Dine Gala which has already been set for November 3, 2013!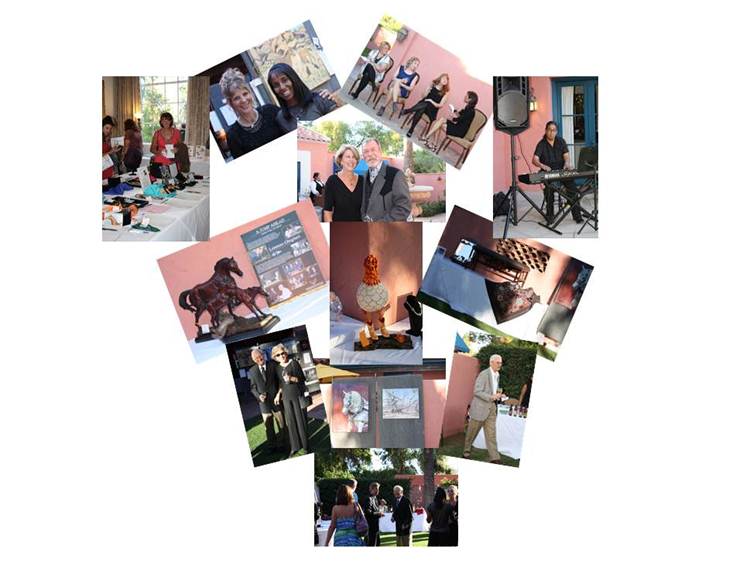 Leave a Legacy: Gulliver & Friends Legacy Fund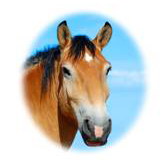 Consider Equine Voices as your charity of choice and help make a difference in the lives of the horses today and beyond by designating Equine Voices in your estate planning.
Visit our website for more information and how to give.

"Gulliver's" Fan Club
For just $10.00 a month (.33 cents a day), you can support our Big Boy Gulliver, mascot of Equine Voices. Join Gulliver's Fan Club and help make a difference in Gulliver's life! You will receive a special sticker, VIP tour, a personal meeting with Gulliver and updates as to the happenings at the sanctuary. Can you spare just .33 cents a day or one cup of coffee? To join this special program, Click Here and a short ways down the homepage on the right is "Gulliver's" Fan Club Sign Up or contact us at info@equinevoices.org, call the main office at 520-398-2814 or go online and sign up today. It's easy, fun and you will make a huge difference in Gulliver's life!!

Thank You "Gulliver"
Don't forget to check in with Equine Voices new Blog - "Ramblings from the Ranch"...
click here to check it out!
---
Gulliver Fan Club
If you love Gulliver and would like to support the horses at Equine Voices Rescue & Sanctuary, please join "Gulliver's Fan Club". For only $10/month, you can be part of helping Gulliver spread the word about the plight of the foals bred for the PMU industry.
Join The Gulliver Fan Club!

Sponsor a Horse
Sponsoring a horse is a wonderful way to help if you have limited time, space or finances and can't commit to a life time of horse care. With the sponsorship, you will receive a beautifully framed picture of the horse you've chosen and their story. For an annual sponsorship you will also receive a beautiful Cowboys Collectible horse hair key chain. Colors and styles may vary based on availability.
Click Here to Sponsor!
For more info contact us at info@equinevoices.org