Assisting Nick With His Transition
<![if !vml]> <![if !vml]>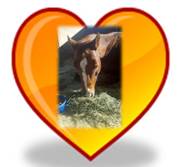 <![endif]> <![endif]>
Dear Friends of Nick,

I wanted to send a note to all of you to let you know that Nick will be going through a transition very soon. The love and care he has received is clearly what has given Nick the will to make it this long. The last two years have been a learning experience and the love he has shared with us will always be remembered. With a donation of $5.00 or more you will receive a special bracelet designed to honor Nick. The bracelets are available at the ranch or online. For more information Click Here

With Love,
Karen
NEWS THAT CAN'T WAIT
<![if !vml]>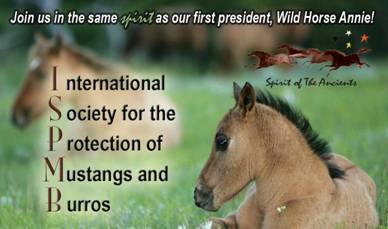 <![endif]>
WYOMING COURT ALLOWS WILD HORSE GROUPS TO INTERVENE IN LAWSUIT
To learn more about the Federal Court Grants Wild Horse Groups' Request to Intervene in Grazing Association Lawsuit Aiming to Destroy Nearly Half of Wyoming's Wild Horse Herds Click Here
Cheers To Equine Voices Rescue & Sanctuary
- New Benefit Wine Released
<![if !vml]>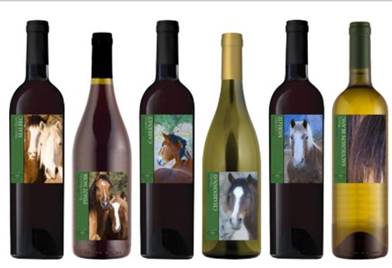 <![endif]>
Photos by Karin Johnson www.CowgirlDesigns.com

To learn more about these exclusive limited edition specialty wines that are now available for purchase Click Here. A percentage of your purchase will go toward helping the horses in our care. These wines will make wonderful hostess and holiday gifts.
The certified organic and vegan friendly wines - Chardonnay, Merlot, Cabernet Sauvignon, Sauvignon Blanc and Pinot Noir - are produced on a free trade vineyard in Lontue Valley, Chile. The Sparkling White Wine from Catalunya, Spain is sure to delight your palate as a refreshing and fruity delight.
Share A Bottle of Wine and Share Our Story...
For more information, please visit
www.equinevoices.org
Contact: Karen Pomroy- President/Founder
Equine Voices Rescue & Sanctuary
PO Box 1685
Green Valley, Az. 85622
T: (520)398-2814 C: (520)980-6716 F: (520)398-3221
karen@equinevoices.org
Dead horse on an NYC street??
<![if !vml]>

<![endif]>
Dear Juanita, <![if !vml]><![endif]> <![if !vml]>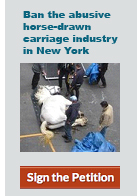 <![endif]>

Draft horses are known for being tough -- but even they aren't tough enough to survive New <![if !vml]><![endif]> York's abusive horse-drawn carriage industry. <![if !vml]><![endif]>

Carriage horses work for an average of only 4 years. (Horses for the mounted police can work for 15.) The short lifespan is due to medical neglect, inadequate diet, long work hours in every kind of weather, and paltry living conditions while working in stressful city environments they're just not meant for.

And once they've outlived their usefulness to the industry, "retiring" carriage horses can be auctioned for slaughter.

The Coalition to Ban Horse-Drawn Carriages is an advocacy group working to end this cruelty, and has started a petition on Change.org to support a ban being proposed by New York state Senator Tony Avella. Will you sign the Coalition to Ban Horse-Drawn Carriages' petition calling on the New York state Senate to shut down NYC's abusive horse-drawn carriage industry? Click here

Public outcry has peaked after the collapse and death of a New York City carriage horse named Charlie last month. Six other horses have been involved in traffic accidents or collapsed in the street since July. Now is the time to shut the horse-drawn carriage industry down.

Please sign the petition telling the New York state Senate to outlaw horse-drawn carriages now:

http://www.change.org/petitions/ban-horse-drawn-carriages-in-new-york-city-new-bill-needs-support

Thanks for being a change-maker,

- Stephanie and the Change.org team

P.S. People are using Change.org to fight for animals every day. Here are some top animals petitions that need your support right now:

• Students at the University of Delaware want their school to join hundreds of other universities in switching to cage-free eggs in its dining services. They started a petition to pressure the university administration to make the switch asap.

• St. Petersburg, FL police shot and killed Boomer, a 12-year-old arthritic golden retriever. Animal advocates Hand 4 Paws and Boomer's owner are using a Change.org petition to get the St. Petersburg Police Department to adopt a new policy that would leave lethal force against animals as a last resort.

• Ohio's legislated breed discrimination against pit bulls could be repealed soon, but the bill is being held up in the state Senate. The Ohio Coalition of Dog Advocates started a petition to make it a priority to pass H. B. 14 that would end statewide breed discrimination.

Don't forget to check in with Equine Voices new Blog!
click here to check it out!
---
Gulliver Fan Club

If you love Gulliver and would like to support the horses at Equine Voices Rescue & Sanctuary, please join "Gulliver's Fan Club". For only $10/month, you can be part of helping Gulliver spread the word about the plight of the foals bred for the PMU industry.
Join The Gulliver Fan Club!

Sponsor A Horse 

For those of you who can't adopt, why not consider sponsoring one of Equine Voices' horses. For only $50/month you can help feed one of these amazing horses. You will receive his/her photo, story and handmade key chain from his/her tail.
Join now!