The Holidays Are Here!

Equine Voices has a lot to be thankful for this year, not the least of which is the tireless work by our coveted volunteers. We also are thankful for the great horses we are able to save, helping to fulfill our seemingly endless goal of finding, rescuing, and searching for "forever homes" for our four-leggeds. We are thankful for Nick, who, in his struggle, has provided us with more than we give him, HOPE. We may lose him soon, but he has made a lasting mark on many of us, and we hope in some small way we have given him something he lacked before coming here, respect and love. We are thankful for the weather that has been pretty kind to us and allowed us to function and accomplish most of our outdoor goals. And lastly, we are thankful for our financial supporters and donors, for without them, we would be but a speck on the wall of normality, and with them we feel we are able to accomplish the impossible - and we have!
Blessings By Tom O'Neil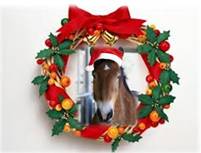 "Gulliver" would like to invite you to shop for your holiday gifts and help the horses at the same time! By shopping online at Amazon, you will have the satisfaction of knowing that a percent of your purchase will go to Equine Voices. It's simple, quick and convenient and you never have to leave your home. Click Here and find the Amazon Icon on the top of the page, right after the Zazzle link. Or just click on the icons below.




Can't find what you want on Amazon? How about shopping for unique gifts at our new Zazzle store by Clicking Here or by clicking on the icon below. Proceeds from your purchases will go directly to helping the horses in our care.