Gulliver Fan Club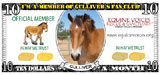 For only $10/month, you can help "Gulliver" spread the word about the plight of the foals bred for the PMU industry by joining the "Gulliver Fan Club"
Learn More...
Gulliver & Friends
Legacy Fund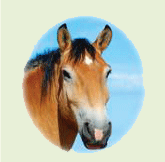 Consider Equine Voices as your charity of choice and help make a difference in the lives of the horses today and beyond.
Learn More...
Nicholas aka "Nick": Legacy Fund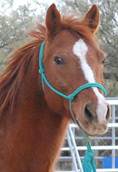 The Nick Legacy Fund has been created in Nick's memory to help us assist other horses like Nick. Our goal is to offer "over and above" medical services to horses who require special medical assistance.
Learn More...
Shop At Amazon And Help The Horses!




By shopping online at Amazon, 10% of your purchases will go to the horses of Equine Voices. It's simple, quick and convenient and you never have to leave your home. Find the Amazon Icon on the top right corner of the homepage, right after the Benefit Wines logo. Or use the icons above.
Shop from Gulliver's Wishlist on Amazon


By simply shopping for the horses, you can help Equine Voices by giving the horses what they need most. Gulliver's Sherpa, Nancy, will continue to update items needed for all the horses that reside at Equine Voices and those fostered by updating the list regularly.
Gulliver's Wishlist
Sundance
Used in the illegal drug trade and abandoned, has found his forever home.



Horses are regularly stolen from local ranches and used to transport drugs to their final destination, a practice that is common in Southern Arizona. Sundance was found in the desert with over 300 lbs of marijuana on his back, he was injured, afraid and scarred for life. When Equine Voices received the call from the Department of Livestock, we knew we had to help. It took weeks for Sundance to allow us to halter him, and over three years for him to learn to trust humans again.

On Saturday December 6th, Sundance met his forever friend Walter aka Precious when Amy Pleckeitis brought her horse Walter to Equine Voices to meet his new companion. Amy was in search of a mare as a companion for Walter, and met several mares that she thought would be a good match for him, until she met Sundance. "Karen, can we try one more thing?". Amy asked, "of course", Karen said. "Can we bring Sundance out and see how they do?" Although they are both geldings, it was a match made in heaven. A little squeal, a little strike, and a forever friendship was formed right on the spot! Today, Sundance and Walter live at San Cayatano Ranch, in Tumacacori, on two acres of beautiful pasture, trees and freedom.

Click Here for a video of Sundance being trimmed for the first time in his new home

Thank you Amy, for giving Sundance a wonderful, forever home!

Meet Alan Day and his coauthor Lynn Wiese Sneyd in a unique equestrian setting!





He already owned and managed two ranches and needed a third about as much as he needed a permanent migraine. Alan Day was not in the market for an old ranch in South Dakota, but a persistent realtor prevailed and Day eventually became the proud owner of that 35,000-acre "sea of grass." But how could he make the ranch profitable?

An unusual opportunity soon dropped into Day's lap, and after wrangling Congressional approval, the Mustang Meadows Ranch was established as the country's first government-sponsored wild horse sanctuary - the eventual home to 1500 wild horses previously considered "unadoptable" by the Bureau of Land Management.

The Horse Lover: A Cowboy's Quest to Save the Wild Mustangs is Day's heartfelt memoir of this vast enterprise - a story replete with surprise, pleasure, plentiful frustrations and heartbreak. Day's deep connection with animals is readily apparent, as is his maverick philosophy of horse whispering.

Alan Day and his sister Sandra Day O'Connor coauthored the New York Times bestseller - Lazy B: Growing up on a Cattle Ranch in the American Southeast.




Lynn Wiese Sneyd is a published author and owner of LWS Literary Services in Tucson.




WHEN: Sunday, January 11, 2015, 2-4 p.m.
WHERE: OUTDOORS at 8750 E. Woodland Rd
COST: $35 ($25 is tax deductible)
ENJOY: Food from Lucky Girl Café
DRINK: Beer and Wine
WIN: Two bales of hay from Daybreak Farms
HOW: To reserve your seat send a check payable to
Pima Library Foundation,
P.O. Box 13245, Tucson AZ. 85732

*Include your email address on your check for confirmation or purchase tickets online through Brown Paper Tickets.*

For further information call Rona 248-2274 or Jody 275-0112

Visit: www.library.pima.gov or www.pimalibraryfoundation.org
Its Official! The European Union will ban horsemeat from Mexico



The official documents have been posted! Horse meat from Mexico will no longer be designated as food for human consumption. Until now, over 100,000 horses a year make the trip from the United States to Mexican slaughter houses. Do not believe the lies that all of these horses are old and sick. If they were old and sick, they would never have been used for human meat in the first place. This will not stop these slaughter houses from selling horse meat to other non-EU countries or for non-food purposes. To learn more about horse slaughter – please read our series of articles on horse slaughter by clicking here. As of January 15th, the EU will not take horse meat from Mexico. It will greatly slow down the numbers of horses crossing the border – to the point that surely some slaughter houses will close. Thanks to Equine Welfare Alliance for publishing the documents. EWA also points out more good news – the 2015 US budget does not allow for funding of horse inspections at US slaughter houses.

Click Here for the official announcement on the ban on horse meat from Mexico

Click Here for some background information

Leave a Legacy: Gulliver & Friends Legacy Fund
Consider Equine Voices as your charity of choice and help make a difference in the lives of the horses today and beyond by designating Equine Voices in your estate planning.
Visit our website for more information and how to give.

"Gulliver's" Fan Club

For just $10.00 a month (.33 cents a day), you can support our Big Boy Gulliver, mascot of Equine Voices. Join Gulliver's Fan Club and help make a difference in Gulliver's life! You will receive a special sticker, VIP tour, a personal meeting with Gulliver and updates as to the happenings at the sanctuary. Can you spare just .33 cents a day or one cup of coffee? To join this special program, Click Here and a short ways down the homepage on the right is "Gulliver's" Fan Club Sign Up or contact us at info@equinevoices.org, call the main office at 520-398-2814 or go online and sign up today. It's easy, fun and you will make a huge difference in Gulliver's life!!

Thank You "Gulliver"
Shop At Amazon And Help The Horses!
Shop at Amazon.com

"Gulliver" would like to invite you to shop at our partners programs and help the horses at the same time! By shopping online at Amazon, you will have the satisfaction of knowing that 10 percent of your purchases will go to the horses of Equine Voices. It's simple, quick and convenient and you never have to leave your home. Click Here and find the Amazon Icon on the top of the homepage, right after the GFAS logo. Or just click on the icons below.
Thank You as always, for your continued love & support, "Gulliver" and Friends

Don't forget to check in with Equine Voices new Blog - "Ramblings from the Ranch"...
click here to check it out!
---
Gulliver Fan Club
If you love Gulliver and would like to support the horses at Equine Voices Rescue & Sanctuary, please join "Gulliver's Fan Club". For only $10/month, you can be part of helping Gulliver spread the word about the plight of the foals bred for the PMU industry.
Join The Gulliver Fan Club!

Sponsor a Horse
Sponsoring a horse is a wonderful way to help if you have limited time, space or finances and can't commit to a life time of horse care. With the sponsorship, you will receive a beautifully framed picture of the horse you've chosen and their story. For an annual sponsorship you will also receive a beautiful Cowboys Collectible horse hair key chain. Colors and styles may vary based on availability.
Click Here to Sponsor!
For more info contact us at info@equinevoices.org