Horse Slaughter Plants To Reopen In The U.S.
and
Horse Meat Could Soon Be Consumed In U.S.
Click Here to view a video with our President/Founder Karen Pomroy which was aired on KVOA Channel 4 Wednesday night. (Please be patient as it does take a little while for the video to open). As you are aware the mission of Equine Voices Rescue & Sanctuary is to rescue PMU mares and foals from slaughter. In addition, Equine Voices rescues horses that have been abused, abandoned and those used in the illegal drug trade. Our goal is to educate the public about the atrocities and the inhumane practice of horse slaughter. Equine Voices is becoming a leader in horse rescue, and is striving to become an "International Voice For The Voiceless".

Horses have done more for our country than any other animal and it's a disgrace to slaughter them in such a brutal manner. Please watch this video about about an amazing horse that was a Korean War hero.
<![if !vml]>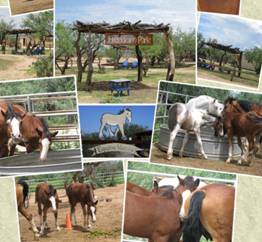 <![endif]>
<![if !vml]>

<![endif]>
Horses Could Soon Be Slaughtered for Meat in U.S.
Horses could soon be butchered in the U.S. for human consumption after Congress quietly lifted a 5-year-old ban on funding horse meat inspections, and activists say slaughterhouses could be up and running in as little as a month. Click Here to read more on the article from Fox News.
Message From The Humane Society of the United States
*Last Hope for Horses*

FYI - HSUS is strongly encouraging folks to contact their legislators and urge them to cosponsor the American Horse Slaughter Prevention Act (S. 1176/H.R. 2966) Let them know that you don't want taxpayers footing the bill for horse slaughter! Click Here To Read the Article From HSUS. Visit this website to make a brief, polite phone call to your two U.S. Senators and U.S. Representative, urging co-sponsorship of the American Horse Slaughter Prevention Act.

Click Here To Read An Article On Horse Slaughter In USA Today
Please politely protest reopening of horse slaughter plants in US!
Call White House Comment line 1-202-456-1111.