Last Minute Holiday Shopping Ideas!

Need a unique gift for friends and family? Why not shop and help the horses at the same time? For a limited time these organic, limited edition labels are available to you, your friends and family. A percentage of your purchase will go toward helping the horses in our care. Don't miss out on this opportunity to give a gift that gives back. These beautiful special edition labels were created exclusively for Equine Voices.
<![if !vml]>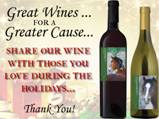 <![endif]> <![if !vml]>

<![endif]>

To learn more about these exclusive limited edition specialty wines that are now available for purchase Click Here . Artwork by Karin Johnson from www.CowgirlDesigns.com.

Are you busy and are finding it hard to get to the stores? Why not consider doing your last minute holiday shopping online at Amazon. By shopping at Amazon, you will also have the satisfaction of knowing that a percent of your purchase will go to Equine Voices. It's simple, quick and convenient, and you never have to leave your home. Click Here and find the Amazon Icons.
<![if !vml]>

<![endif]> <![if !vml]>

<![endif]>

Still can't find that special or unique gift? How about shopping for unique, one of a kind gifts at our new Zazzle store by Clicking Here . Proceeds from your purchase will go directly to support the horses in our care.
<![if !vml]>

<![endif]>
How about a special gift from Gulliver's Gift Shop?

<![if !vml]>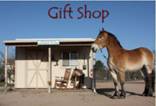 <![endif]>

Need a stocking stuffer, or a gift under $20? Step into Gulliver's Gift shop while you are visiting the sanctuary or while volunteering. Or make your shopping convenient by Clicking Here at Gulliver's online store. All proceeds help feed the horses. We have clothing, accessories, books, art, jewelry and much more!

"Update On Trinket"
Trinket arrived at her foster home with Mary B on October 11. She is a very curious and outgoing little horse, with an incredibly strong drive to survive and overcome the challenges of her hoof deformities. She has somehow adapted, after at least two to three years of having to re-balance her body to accommodate her overgrown hooves. She is an amazing girl! Watch as she explores her new home and mugs for the video camera! Click on the video links below to download videos of Trinket. - Article and videos by Carol Grubb

Equine Voices Holiday Open House

The Holiday Open House Was A Huge Success. To all of you who helped with this event.....THANK YOU!! Equine Voices' Board of Directors and staff would like to thank all of you for making the event the best ever! The weather could not have been better, and the day was fantastic. The dedication of our new Memory Garden was sacred, and watching Gulliver and Pirate strut their stuff was quite entertaining. For the first time we watched dog agility demonstrations, which were terrific! Stay tuned for more photos......
<![if !vml]>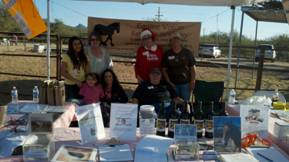 <![endif]>
Marilyn N, Nancy C. & Her Family Working The Information Table
<![if !vml]>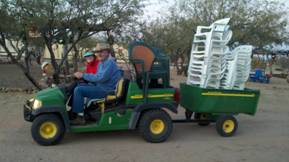 <![endif]>
Jerry & Kathy Tucker A.K.A. "Beverly Hillbillies" at tear down.
THE BATTLE TO BAN NYC'S HORSE-DRAWN CARRIAGES
Please Help The Horses!!
<![if !vml]>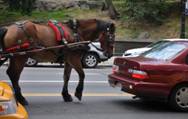 <![endif]> <![if !vml]>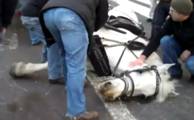 <![endif]> <![if !vml]>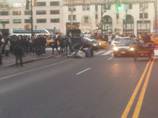 <![endif]> <![if !vml]>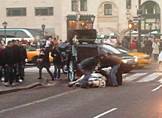 <![endif]>

Update about issues and actions concerning
New York City's Carriage Horses

Click Here To Read More About This Issue
Or Click On The Links Below

Coalition to Ban Horse-Drawn Carriages

Horses Without Carriages International

Click Here To Sign Petition
Don't forget to check in with Equine Voices new Blog!
click here to check it out!
---
Gulliver Fan Club

If you love Gulliver and would like to support the horses at Equine Voices Rescue & Sanctuary, please join "Gulliver's Fan Club". For only $10/month, you can be part of helping Gulliver spread the word about the plight of the foals bred for the PMU industry.
Join The Gulliver Fan Club!

Sponsor A Horse 

Sponsoring a horse is a wonderful way to help if you have limited time, space or finances and canít commit to a lifetime of horse care.
With the sponsorship, you will receive a beautifully framed picture of the horse youíve chosen and their story. For an annual sponsorship you will receive a horse hair tassle made from a sponsored horse's tail hair.
Click Here to Sponsor!
For more info contact us at info@equinevoices.org