Babies Arrive Home For Christmas On Santa's Equine Sleigh
<![if !vml]>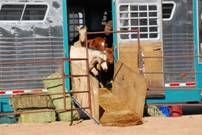 <![endif]> <![if !vml]>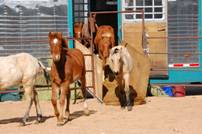 <![endif]> <![if !vml]>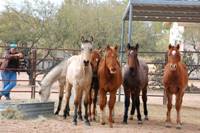 <![endif]>
Six beautiful babies, "expendable" cast-offs from the Premarin industry, were paid for by Equine Voices and safely shipped to us by Hubbard Horse Transport in the month of December. They were saved by Equine Voices from a former PMU farmer and through the collaboration of several groups, among them Anna Twinney, Reach Out to Horses, Celine Myers with the Arkwatch Foundation, Frank Weller of Equine Angels and Ray of Light. The babies were weaned, moved from the PMU farm, and then transported to North Dakota in November. They then left N.D. on December 17, were transported in a luxury horse semi, first to the state of Washington, a drop-off point for several other horses. There they rested and then continued on to California, where they again rested and watched while some of their new fellow riders were off-loaded. Then, at midnight, Chuck and Miriam, skilled haulers, carefully reloaded the babies along with six other horses for their last leg and headed to Green Valley to find home at Equine Voices. They arrived just about noon amid thunderous applause seemingly none the worse for wear for their long journey. KVOA's Channel 4 Anchor-Reporter Brandon Gunnoe was on hand to aptly film the historic event. This victory was the result of many months of calling, negotiating, and arranging the adoption and complicated transportation details, spearheaded by Karen. Also on hand at the arrival, to present a substantial monetary donation and a beautiful glass award to Karen, President and Founder of Equine Voices, was a representative of The Supreme Master Ching Hai International Association, an organization dedicated to help all earth's co-inhabitants. The unexpected gifts were given with love to Karen for her sacrifice and her relentless devotion to expanding her mission of giving a "voice to the voiceless". Thank yous go out to Scriptsave, Joyce from Phoenix, all the volunteers and supporters who made this incredible rescue and delivery possible! And Nancy, Stella, and Danae - thanks for picking up the donuts!!!! We love you!

By Tom O'Neil

Click Here To Visit Equine Voices YouTube Channel To see Videos Of Our New Babies

Note: If the videos are not showing on the right side as the top three videos, click on the word ALL at the top to the left of the word Subscribe

<![if !vml]><![endif]> Join Us For A Very Special Ceremony Celebrating The Horses of Equine Voices
<![if !vml]>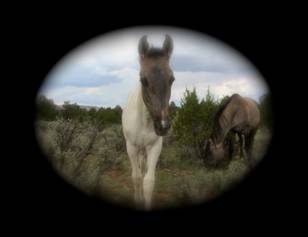 <![endif]>

When: January 14th & January 15th, 2012 9 A.M. to 4 P.M.
Where: Equine Voices Rescue & Sanctuary
$50.00 Per Day Suggested Tax Deductible Donation

Celebrate the new year with us in two days of sacred ceremony, introducing the Dine' (Navajo) traditions, blessings, prayers and song. Share in the Creation Story of the Horse that honors all that is sacred. Follow the footsteps of the Ancestors, to the Four Sacred Mountains, as told by a Dine Medicine Man. Actively participate in a blessing for the horses and the grounds, understanding our deep connection to the earth and all things. Begin 2012 with ancient traditions that speak to the heart, guided by the sentient wisdom of the horses. Illuminate your own personal journey to your ancestors and life's purpose.

Space is limited, so make your reservations now. Email info@equinevoices.org or call 520-398-2814 to reserve your space or for more information.

<![if !vml]>

<![endif]>
<![if !vml]><![endif]> <![if !vml]><![endif]> <![if !vml]><![endif]> <![if !vml]><![endif]>
Action Alert: Your Help Needed to Protect the Pryor Mustangs
BLM Sets Sights on Cloud's Herd Once Again

The BLM is proposing another significant removal of wild horses on the Pryor Mountains.

We know. Just when you thought it was safe... they're back!

Click Here To Read The Entire Action Alert and See How You Can Help
<![if !vml]>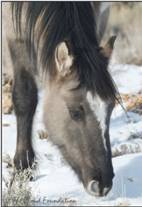 <![endif]> <![if !vml]>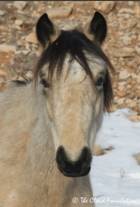 <![endif]> <![if !vml]>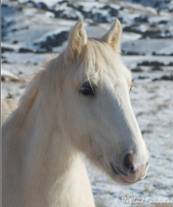 <![endif]> <![if !vml]>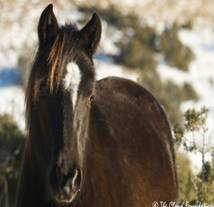 <![endif]>


Don't forget to check in with Equine Voices new Blog!
click here to check it out!
---
Gulliver Fan Club

If you love Gulliver and would like to support the horses at Equine Voices Rescue & Sanctuary, please join "Gulliver's Fan Club". For only $10/month, you can be part of helping Gulliver spread the word about the plight of the foals bred for the PMU industry.
Join The Gulliver Fan Club!

Sponsor A Horse 

Sponsoring a horse is a wonderful way to help if you have limited time, space or finances and can't commit to a lifetime of horse care.
With the sponsorship, you will receive a beautifully framed picture of the horse you've chosen and their story. For an annual sponsorship you will receive a horse hair tassle made from a sponsored horse's tail hair.
Click Here to Sponsor!
For more info contact us at info@equinevoices.org