Reminder To Join Us For A Very Special Ceremony
Celebrating The Horses of Equine Voices
<![if !vml]><![endif]> <![if !vml]>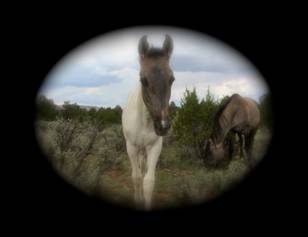 <![endif]> <![if !vml]><![endif]>
When: January 14th & January 15th, 2012
9 A.M. to 4 P.M.
Click Here for more information on this very special ceremony

Space is limited, so make your reservations now. Email info@equinevoices.org or call 520-398-2814 to reserve your space or for more information.

<![if !vml]><![endif]> Update On Our Christmas Foals <![if !vml]>
<![endif]>
The new babies have settled in nicely since their arrival on December 21st, and have been relaxing every day in the Arizona sun. Like most babies their day consists of eating, drinking, pooping, playing and mostly sleeping. Baby # 1 a.k.a. Magic, has already been sponsored by Alice Jordan. The five remaining babies are patiently waiting to find a sponsor like Alice. Don't forget that Anna Twinney will be here Feb 20 thru Feb 26th to gentle the foals. If you would like to participate by auditing, please contact Anna Twinney at anna@reachouttohorses.com. To make an appointment to meet the foals or to sponsor one Click Here. To visit our YouTube channel and see the babies in person Click Here.


<![if !vml]> Three More Four Legged Lives Saved!


The activity of using donkeys and/or burros to practice for roping calves may be very foreign to many people. Donkeys and/or burros suffer terribly in this practice, and many donkeys/burros die a painful death. On December 26th, Equine Voices learned about three donkeys that were being given to a man that wanted to use them for roping practice. Through much negotiation, the three donkeys (names unknown) were saved by Equine Voices and brought to the sanctuary by our very dear friend, volunteer and artist Karin Johnson. They spent two short days at the sanctuary until John and Tish from Forever Home Donkey Rescue picked them up and took them home. The two boys and adorable young jenny loaded like champs and after a short period were on their way home to Benson to join the herd at Forever Home Donkey Rescue. Thank you Karin, John and Tish for collaborating on this rescue, and for all your hard work in making this another successful outcome! To adopt a donkey or burro from Forever Home Donkey Rescue Click here. <![endif]> <![if !vml]> <![endif]> <![if !vml]> <![endif]> <![if !vml]> <![endif]>


<![if !vml]> Join Us On Facebook


Click on the Facebook Icon to the left if you would like to follow our journey. To interact or connect with Equine Voices Rescue & Sanctuary on Facebook you will need to sign up. It's free, fun and anyone can join. Click on the LIKE button and be sure to visit us frequently to read our latest news. On our Facebook you will find articles, notice of events, links, photos, videos and much more. We would love to connect with you as well! <![endif]> <![if !vml]> <![endif]> <![if !vml]> <![endif]> <![if !vml]> <![endif]>

Don't forget to check in with Equine Voices new Blog - "Ramblings from the Ranch"...
click here to check it out!
---
Gulliver Fan Club

If you love Gulliver and would like to support the horses at Equine Voices Rescue & Sanctuary, please join "Gulliver's Fan Club". For only $10/month, you can be part of helping Gulliver spread the word about the plight of the foals bred for the PMU industry.
Join The Gulliver Fan Club!

Sponsor A Horse 

Sponsoring a horse is a wonderful way to help if you have limited time, space or finances and can't commit to a lifetime of horse care.
With the sponsorship, you will receive a beautifully framed picture of the horse you've chosen and their story. For an annual sponsorship you will receive a horse hair tassle made from a sponsored horse's tail hair.
Click Here to Sponsor!
For more info contact us at info@equinevoices.org