Love, Light & Healing For Nick
<![if !vml]>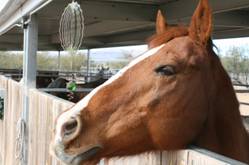 <![endif]>
"NICHOLAS" aka "NICK"
<![if !vml]> <![endif]> <![if !vml]> <![endif]>
As many of you know, Nick was the only survivor of a barn fire six years ago. His wounds were never treated and his infection was the worst we've ever seen. For 2 1/2 years we treated him daily, twice a day, and actually saw some wonderful improvement. Last fall, he was diagnosed with cancer. Since then, he's been taking Chi herbs, Chinese herbs designed to help fight the cancer, and has been on several vitamin and mineral supplements to help create a more balanced system and build up his depleted immune system. Laser and acupuncture treatments have also been part of the protocol. We are seeing remarkable results. In fact, his open laceration is shrinking and is no longer the angry volcano it had become. Although Nick is not out of the woods yet, for the first time in years, we are optimistic that he may, someday be completely healed. We know these herbs are helping Nick, but also, all the love, support and prayers from all of you are aiding him in this journey to healing. To help offset the $600 per month treatment costs, we are accepting donations for Nick. For a $5 or more donation, you will receive a special bracelet, designed for Nick with the words "Love, Light & Healing For Nick".

Click Here to purchase a bracelet and support Nick by clicking on the donate button below Gulliver. You can also help by donating by clicking here. Please note your donation is for "Nick".

With Deep Gratitude For Your Continued Support!



Also if you would like to send a check or call in your credit/debit card to help with Nick's treatments, you can send a check to:
Equine Voices Rescue & Sanctuary
P.O. Box 1685
Green Valley, AZ 85622
For credit/debit card donations
All proceeds from the bracelets and donations will go directly to Nick's cancer treatments. Thank you all for your continued prayers, love and positive energy toward Nick's healing.

Foal Gentling Clinic
<![if !vml]><![endif]> <![if !vml]> <![if !vml]>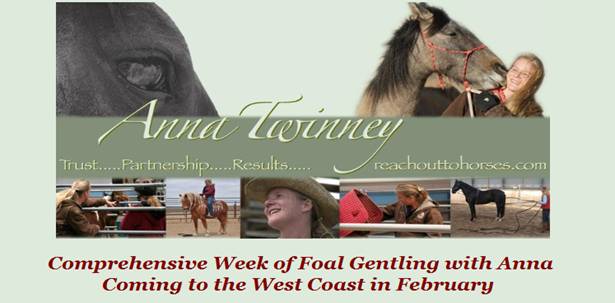 <![endif]> <![endif]> <![if !vml]><![endif]> <![if !vml]>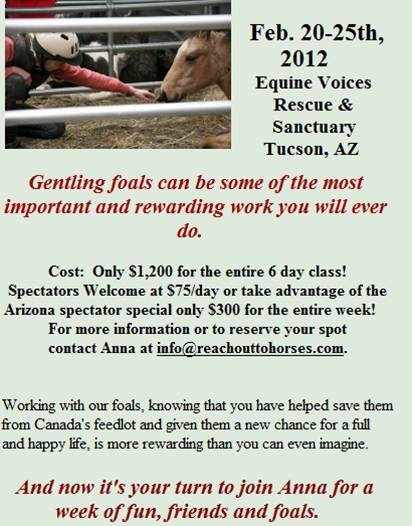 <![endif]>
<![if !vml]><![endif]> Action Alert: Period Extended For Pryor Herd

<![if !vml]> <![if !vml]>

<![endif]> <![endif]>

Comment Period for Pryors Extended
BLM Allows Comments Through January 20th
Dear Pryor Wild Horse Defenders,

We've just learned that the BLM Field Office in Billings has extended the comment period for the Pryor Mountain Wild Horse Preliminary Environmental Assessment (PEA) until January 20th. Emailed comments will be accepted (BLM_MT_Billings_FO@blm.gov), but physically mailed comments are encouraged (Jim Sparks: BLM Billings Field Manager, 5001 Southgate Drive, Billings, MT 59101).
<![if !vml]>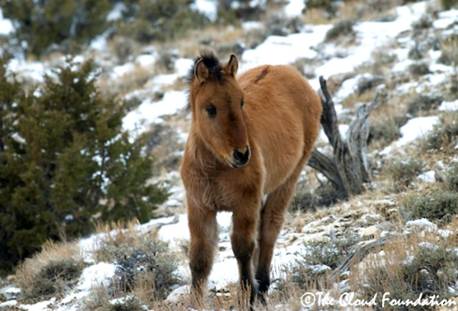 <![endif]>
Little Lynx in Cloud's band could be removed if bait-trapping proceeds
In light of this extension, we are doing more research on alternatives to an unnecessary removal of 30 young Pryor mustangs. We will be sending this new information soon.

Stay tuned!

Happy Trails!
Ginger


<![if !vml]> Message from Madeleine Pickens
<![if !vml]>

<![endif]>
Where do the GOP Candidates Stand on Animal Issues?

Friday, December 30, 2011

The Humane Society Legislative Fund has not yet made any recommendation in the 2012 presidential race, but over the coming months we will be evaluating President Obama's animal welfare record during his first term and looking at where the major Republican candidates stand on animal issues. Three of the major candidates remaining are current or ex-governors, one is a former U.S. Senator and House member, two serve in the U.S. House, and one served in the House and was Speaker of the House. In short, each one has a record on animal welfare issues, and it's an especially good time to examine the issues with the Iowa caucuses on Tuesday evening, and primaries in New Hampshire and South Carolina later in January. Animal advocates should factor animal issues when they evaluate the candidates and make a final decision.

To read more on this Issue Click Here <![endif]> <![if !vml]> <![endif]> <![if !vml]> <![endif]> <![if !vml]> <![endif]>

<![if !vml]> Upcoming Event

*********************************************************
SAVE THE DATE!!! <![if !vml]>

<![endif]>
Equine Voices' 8th Annual
"A Very Special Horse Event"
When: March 31, 2012 11:30 am – 3:30 pm
Where: Brandi Fenton Memorial Park River Rd. Tucson AZ
What: Celebrate the Rescue – Rehabilitation – Recovery of Equine Voices' Horses. Come and watch our special horses during our horse program, silent auction, Live dessert auction, Gulliver's Gift Shop and much more.
Stay tuned for more information!!

*********************************************************
JOIN US ON FACEBOOK
Click on the Facebook Icon to the left if you would like to follow our journey. To interact or connect with Equine Voices Rescue & Sanctuary on Facebook you will need to sign up. It's free, fun and anyone can join. Click on the LIKE button and be sure to visit us frequently to read our latest news. On our Facebook you will find articles, notice of events, links, photos, videos and much more. We would love to connect with you as well! <![endif]> <![if !vml]> <![endif]> <![if !vml]> <![endif]> <![if !vml]> <![endif]>

Don't forget to check in with Equine Voices new Blog - "Ramblings from the Ranch"...
click here to check it out!
---
Gulliver Fan Club

If you love Gulliver and would like to support the horses at Equine Voices Rescue & Sanctuary, please join "Gulliver's Fan Club". For only $10/month, you can be part of helping Gulliver spread the word about the plight of the foals bred for the PMU industry.
Join The Gulliver Fan Club!

Sponsor A Horse 

Sponsoring a horse is a wonderful way to help if you have limited time, space or finances and can't commit to a lifetime of horse care.
With the sponsorship, you will receive a beautifully framed picture of the horse you've chosen and their story. For an annual sponsorship you will receive a horse hair tassle made from a sponsored horse's tail hair.
Click Here to Sponsor!
For more info contact us at info@equinevoices.org