Gulliver Fan Club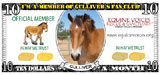 For only $10/month, you can help "Gulliver" spread the word about the plight of the foals bred for the PMU industry by joining the "Gulliver Fan Club"
Learn More...
Gulliver & Friends
Legacy Fund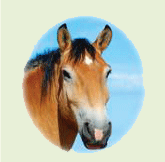 Consider Equine Voices as your charity of choice and help make a difference in the lives of the horses today and beyond.
Learn More...
Nicholas aka "Nick": Legacy Fund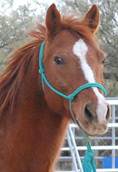 The Nick Legacy Fund has been created in Nick's memory to help us assist other horses like Nick. Our goal is to offer "over and above" medical services to horses who require special medical assistance.
Learn More...
Shop At Amazon And Help The Horses!




By shopping online at Amazon, 10% of your purchases will go to the horses of Equine Voices. It's simple, quick and convenient and you never have to leave your home. Find the Amazon Icon on the top right corner of the homepage, right after the Benefit Wines logo. Or use the icons above.
Shop from Gulliver's Wishlist on Amazon


By simply shopping for the horses, you can help Equine Voices by giving the horses what they need most. Please check out Gulliver's Wishlist to learn more.
Meet Janelle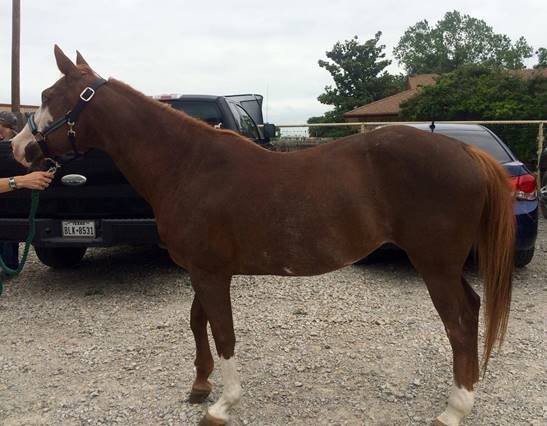 Standing in a corral, crammed with other horses, loud noises and loud voices, Janelle, stood trembling with fear as she had no idea of her fate. Janelle, is completely blind.

Without sight and without a voice, Janelle was dumped in a feedlot in Texas and was heading to a slaughterhouse in Mexico. The people that dumped her in the feedlot had no conscience or remorse for this beautiful sentient being. When a person hauling another rescued horse out of the feedlot saw Janelle in distress and in horrible condition, (body score 1.5 out of 10) they contacted Celine Myers of Arkwatch Foundation who agreed to save her life. Together with Mary Adams, Janelle was rescued and was taken to Reatta Veterinary clinic in Texas, where she was cared for, loved and rehabilitated until she was ready to travel to our sanctuary.

On May 25th, after weeks of rehabilitation, Janelle arrived safely to Equine Voices. We are thrilled to welcome Janelle into our family and she will live her life here with love, compassion and all that she needs and deserves.

Thank you Celine, Mary, Reatta Veterinary and Equine Express for bringing her to safety.

This special needs girl is looking for that special someone to sponsor her and give her the love she deserves. If you are interested in sponsoring Janelle, please call the office at 520-398-2814, or email Angie at angie@equinevoices.org.

As always, thank you all for your support!

To view a video of Janelle's arrival click this link: https://www.youtube.com/watch?v=NPRWDu-1558
2016 Mustang Raffle



Thanks to our wonderful volunteers Angie Werner and Jack Davis for sitting the Quail Creek Car Show with this awesome car and selling $1,975 worth of Mustang tickets to benefit the horses of Equine Voices Rescue & Sanctuary.

Jim Click is donating this 2016 Ford Mustang Shelby GT350. The iconic Mustang, an American muscle car, burst onto the scene in 1964 and never looked back. The Ford Motor Company is building 4,300 this year making this a collector's item! The approximate MSRP is $47,000. Tickets are $25 each or 5 for $100. This is your chance to win a lot of horses and helping horses at the same time. Each participating charity who sells tickets will keep the proceeds from the tickets sold. Contact Angie in the office at 520-398-2814 or angie@equinevoices.org to get your tickets. For more details on the raffle click here. For more details on the car you could win click here. Thank you and good luck!
Coming Soon – Gulliver & Friends Boutique

We need volunteers to help with the following:


---

• Working in the store

• Selling store items and tack

• Processing donations

• Picking up donated items

---

Please support Equine Voices by donating your items to sell in our boutique. Stay tuned for information on our grand opening which is tentatively set for September, 2016.

To volunteer and/or to donate contact Angie in the office at angie@equinevoices.org or (520) 398-2814.
Our New Gate Is In

A big thank you to Windwalker Design for making such a beautiful gate for our Training and Adoption Center! The final touches were put on the install today.

New Information Reveals Unreported Death in
Experimental Wild Mare/Burro Sterilizations
performed by Dr. Leon Pielstick

Dr. Pielstick is scheduled to perform mare sterilization research at Oregon State University. COLORADO SPRINGS, Co. (May 17, 2016) - On May 10, The Cloud Foundation (TCF) received a call from an unnamed Phoenix resident who had witnessed deadly burro and mare sterilization operations performed in Arizona last month by Dr. Leon Pielstick, DVM, the veterinarian slated to perform such procedures on hundreds of wild mares and foals, currently being held in the Bureau of Land Management (BLM), Hines, Oregon corrals. The BLM funded mare sterilization operations would be undertaken through a BLM grant to Oregon State University (OSU).

"I received a call last week from a person who attended the surgeries," explains Ginger Kathrens, Executive Director of TCF. "According to the caller, the burros formerly roamed wild on the Lake Pleasant Herd Management Area north of Phoenix. The caller, who wishes to remain anonymous, had hoped that the surgeries might be a humane and effective field population control for burros, stating that there have been burros involved in accidents on highways near Lake Pleasant. The caller said that Dr. Pielstick told them that the procedure was 'safe.' The caller said, - "now we've done that (the ovariectomies), there are too many complications."

The ovariectomy surgeries on the handful of female burros and one mare resulted in one of the burros bleeding out (evisceration) and the mare dying two days later. To date TCF has been unable to find out whether the other burros are alive. They were believed to have suffered serious infection.

In an ongoing effort to halt BLM-funded, inhumane sterilization research on wild mares (procedures rarely used on domestic mares that can be easily handled and given necessary after care), the Cloud Foundation, other humane organizations, and thousands of Americans have been in communication with OSU, urging them to abandon the research project.

Dr. Lisa Jacobson, DVM from Berthoud, Co states. "As an equine veterinarian I'm in shock that the BLM, veterinarians, and OSU are even considering the mare sterilization techniques being proposed. These techniques are abusive & incredibly negligent." Dr. Jacobson has worked with both wild and domestic equines for years. According to Jacobson, "The Colpotomy procedure is so barbaric and risky that I have never been behind it--with domestic mares--let alone wild mares. Laproscopic spaying is in no way a procedure to be done in a non-clinical environment, with no follow up management (the least being pain management. How can this even be considered for wild mares? ... As far as I'm concerned, this is a deadly cocktail of risk factors."

Dr. Don Moore, equine veterinarian with decades of experience stated, "Mass experimental surgeries performed under these conditions outlined in the proposal, amounts to negligence and abuse. I believe experiments such as this proposal are unethical, inhumane and unwarranted. Any veterinarian(s) who would perform these experiments is in violation of the oath (Page 3) taken as a graduating veterinarian, 'above all else, do no harm.' "

A big THANK YOU to our awesome volunteers!
Leave a Legacy: Gulliver & Friends Legacy Fund
Consider Equine Voices as your charity of choice and help make a difference in the lives of the horses today and beyond by designating Equine Voices in your estate planning.
Visit our website for more information and how to give.

"Gulliver's" Fan Club

For just $10.00 a month (.33 cents a day), you can support our Big Boy Gulliver, mascot of Equine Voices. Join Gulliver's Fan Club and help make a difference in Gulliver's life! You will receive a special sticker, VIP tour, a personal meeting with Gulliver and updates as to the happenings at the sanctuary. Can you spare just .33 cents a day or one cup of coffee? To join this special program, Click Here and a short ways down the homepage on the right is "Gulliver's" Fan Club Sign Up or contact us at info@equinevoices.org, call the main office at 520-398-2814 or go online and sign up today. It's easy, fun and you will make a huge difference in Gulliver's life!!

–Thank You "Gulliver"
Shop At Amazon And Help The Horses!
Shop at Amazon.com


"Gulliver" would like to invite you to shop at our partners programs and help the horses at the same time! By shopping online at Amazon, you will have the satisfaction of knowing that 10 percent of your purchases will go to the horses of Equine Voices. It's simple, quick and convenient and you never have to leave your home. Click Here and find the Amazon Icon on the top of the homepage, right after the GFAS logo. Or just click on the icons below.

Thank You as always, for your continued love & support, "Gulliver" and Friends

Don't forget to check in with Equine Voices new Blog - "Ramblings from the Ranch"...
click here to check it out!
---
Gulliver Fan Club
If you love Gulliver and would like to support the horses at Equine Voices Rescue & Sanctuary, please join "Gulliver's Fan Club". For only $10/month, you can be part of helping Gulliver spread the word about the plight of the foals bred for the PMU industry.
Join The Gulliver Fan Club!

Sponsor a Horse
Sponsoring a horse is a wonderful way to help if you have limited time, space or finances and can't commit to a life time of horse care. With the sponsorship, you will receive a beautifully framed picture of the horse you've chosen and their story. For an annual sponsorship you will also receive a beautiful Cowboys Collectible horse hair key chain. Colors and styles may vary based on availability.
Click Here to Sponsor!
For more info contact us at info@equinevoices.org