Accredited

Gulliver Fan Club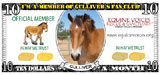 For only $10/month, you can help "Gulliver" spread the word about the plight of the foals bred for the PMU industry by joining the "Gulliver Fan Club"
Learn More...
Gulliver & Friends
Legacy Fund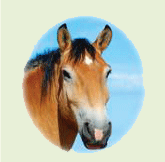 Consider Equine Voices as your charity of choice and help make a difference in the lives of the horses today and beyond.
Learn More...
Nicholas aka "Nick": Legacy Fund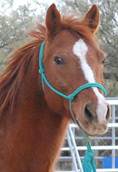 The Nick Legacy Fund has been created in Nick's memory to help us assist other horses like Nick. Our goal is to offer "over and above" medical services to horses who require special medical assistance.
Learn More...
Shop At Amazon And Help The Horses!




By shopping online at Amazon, 10% of your purchases will go to the horses of Equine Voices. It's simple, quick and convenient and you never have to leave your home. Find the Amazon Icon on the top right corner of the homepage, right after the Benefit Wines logo. Or use the icons above.
Shop from Gulliver's Wishlist on Amazon


By simply shopping for the horses, you can help Equine Voices by giving the horses what they need most. Gulliver's Sherpa, Nancy, will continue to update items needed for all the horses that reside at Equine Voices and those fostered by updating the list regularly.
Gilliver's Wishlist
Ziggy Is Looking For That Special Someone
To Adopt or Sponsor Her
Ziggy is a former PMU mare that was rescued from slaughter in 2005. She arrived with a load of 25 other mares and foals and has made Equine Voices her home. Ziggy was born in 1995 and is a sorrel colored quarter horse. She is somewhat independent, but is very quiet and even-tempered. She is friendly toward people, and very approachable. Her disposition is sweet, and suggests that Ziggy could make a great trail or family horse. Ziggy is looking for that perfect home and/or someone to sponsor her.
If you would like to adopt or sponsor Ziggy, please visit our website adoption page by Clicking Here or our sponsor page by Clicking Here. To visit the sanctuary and meet Ziggy you can contact us at info@equinevoices.org or by calling 520-398-9312.
Save The Date For The Upcoming 7th Annual Wine & Dine Gala

What: Seventh Annual Wine & Dine Gala to benefit Equine Voices Rescue & Sanctuary
| | |
| --- | --- |
| When: Nov 3rd, 2013 | Where: The Historic Arizona Inn |
| 4:00pm - 8:30pm | 2200 E. Elm Street |
| | Tucson, AZ 85719 |
| | 520-325-1541 |
* Hosted bar, Complimentary wine glass, Hors D'Oeuvres with concurrent Silent Auction *

* Live Auction with professional auctioneer Letitia Frye *

* Three course sit down dinner *

* Great local/national/international wines and beers from various wineries and breweries *

More Information To Follow In The Coming Months
Synopsis By Karen Tweedy-Holmes Of The Horse Sanctuary Book Signing in Tubac And Her Visit To See The Horses At The Sanctuary
I flew back to the Apple for a day and then flew out on the 17th to Tucson. I had a TV sound bite on "Morning Blend," the local version of "Good Morning, America," with Karen Pomroy, founder/director of Equine Voices in Green Valley. (The link to the show is www.tucsonmorningblend.com and then put in the date–April 18th.) (Note to Larry: The rest of that day was spent framing pictures like mad at an artist friend's spacious studio. With the help of my photographer friend Pamela Duffy I framed 20 large prints (same size as those at the Rizzoli launch but in beautiful frames made of dark brown wood). I prepared another 20 prints in clear sealed bags for unframed presentation. The following day (Friday) I drove the photos to the Rogoway Gallery in Tubac, about 50 miles south of Tucson, where I worked with the gallery owners, Debbie and Jackie, to hang them. The presentation was beautifully arranged, and the ladies borrowed a gorgeous mesquite table (that I would love to own) for the signing. I spent the night at Equine Voices sanctuary and arose at 6 a.m. to begin photographing the magnificent horses there, including the divine Maya, with whom I have fallen in love. She is a buckskin PMU mare of VERY sturdy proportions and a kind eye. I was able to groom her for an hour or so, untangling her long, thick black mane. She has never been ridden or handled much, but she seems to like me well enough or sense that I adore her, because she approaches me and permits caresses, which Karen says is not her usual behavior.
| | |
| --- | --- |
| Rogoway Gallery | Karen Pomroy & Karen Tweedy-Holmes |
| The Book-Horse Sanctuary | Maya |
---
If you would like a copy of Horse Sanctuary, please call the office at 520-398-2814.
Give Mom the gift that gives back! Select one or all six organic wines and celebrate Mother's Day by also celebrating the Equine Voices horses. Each label is designed exclusively for Equine Voices. $6.00 from each bottle purchased is donated back to the horses of Equine Voices. All you have to do is visit Benefit Wines/Equine Voices or you can stop by Gulliver's Gift Shop.

You can also shop for Mom or Grandma at Gulliver's Gift Shop! Gulliver has many items to choose from such items as t-shirts, hats, socks and much more with his logo. There is an array of art, jewelry, keepsakes, cards and more that make great gifts.

If you don't find what you want, you can visit one of our Partner Programs at our Zazzle store by Clicking Here or at Amazon.com by Clicking Here. You can also visit our shops by clicking one of the logos below:
A percentage of your purchases from either Benefit Wines, Zazzle or Amazon are donated back to the horses of Equine Voices.

Thank You for your continued love & support, "Gulliver" and Friends.