Gulliver Fan Club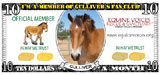 For only $10/month, you can help "Gulliver" spread the word about the plight of the foals bred for the PMU industry by joining the "Gulliver Fan Club"
Learn More...
Gulliver & Friends
Legacy Fund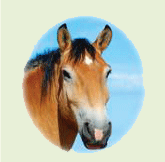 Consider Equine Voices as your charity of choice and help make a difference in the lives of the horses today and beyond.
Learn More...
Nicholas aka "Nick": Legacy Fund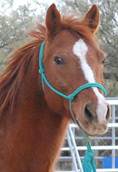 The Nick Legacy Fund has been created in Nick's memory to help us assist other horses like Nick. Our goal is to offer "over and above" medical services to horses who require special medical assistance.
Learn More...
Shop At Amazon And Help The Horses!




By shopping online at Amazon, 10% of your purchases will go to the horses of Equine Voices. It's simple, quick and convenient and you never have to leave your home. Find the Amazon Icon on the top right corner of the homepage, right after the Benefit Wines logo. Or use the icons above.
Shop from Gulliver's Wishlist on Amazon


By simply shopping for the horses, you can help Equine Voices by giving the horses what they need most. Please check out Gulliver's Wishlist to learn more.
Samson Has Arrived



On May 30th we opened our gates and hearts to this gentle, blind, Havasupai horse named Samson. Samson, named for his bravery, endured years of abuse carrying people and supplies up and down the eight-mile stretch in the Grand Canyon. He became blind after his owner violently punched him in the eye, leaving him without sight. Over a month ago, we were contacted to see if we had room for this amazing warrior. Thankfully we did, and after a long, 5 1/2 hour, grueling walk out of the canyon, Samson has arrived safely home. Our very own ranch manager, Ricky Williams and Adam from Healing Hearts Rescue & Refuge, walked over eight miles to get Samson safely to the top of the canyon. Samson is one of the lucky ones, and we pray we will have more room and the financial capacity to help other Havasupai horses in need. If you would like to sponsor Samson, or help us in our Havasupai rescue mission, please call us at (520) 398-2814 or go directly to our website:

www.equinevoices.org

For KVOA News 4 Tucson's coverage of this story please click here.

WARNING: The following pictures are graphic and may not be suitable for all audiences.




New Budget Would Allow Sale of Wild Horses For Slaughter



NBC News reported last week the new budget proposal would allow the sale of wild horses that were captured throughout the West and currently kept in Bureau of Land Management (BLM) holding facilities. The requirement that guarantees the animals will not be sold for slaughter is not part of the proposal. For the full story, please click here.

2017 Millions For Tucson Raffle



This year Jim Click has changed the prize for the raffle, in fact, there are actually 3!

The Grand Prize: a 2017 Ford Explorer Platinum,
2nd Prize: 2 round-trip, 1st class airline tickets to anywhere in the world,
3rd Prize: $5,000 Cash.

Tickets for this raffle are $25 each or 5 for $100. For more information click here or call Angie in the office at 520-398-2814 or email angie@equinevoices.org

Anna Twinney is Coming Back!



August 26 - September 1, 2017

Join Anna Twinney for her Simple Solutions - A Week of Advanced Horsemanship class right here at Equine Voices! Early bird price for this amazing week is $1,497 until July 1, 2017. After July 1st, the cost for this amazing week of working with the Equine Voices rescued horses is $1,697 . (Travel, accommodations, and food are NOT included).

Please visit http://www.reachouttohorses.com/ttt.html#simple for more information and/or to sign up. For places to stay near Equine Voices, please contact Angie at angie@equinevoices.org or call (520) 398-2814.

More information for Anna's workshop is now available on our website. Please click here to view it.

Thank you for helping us help them. Please remember to wear a hat, sunscreen, and drink a lot of water. It's hot out there!

Leave a Legacy: Gulliver & Friends Legacy Fund
Consider Equine Voices as your charity of choice and help make a difference in the lives of the horses today and beyond by designating Equine Voices in your estate planning.
Visit our website for more information and how to give.

"Gulliver's" Fan Club

For just $10.00 a month (.33 cents a day), you can support our Big Boy Gulliver, mascot of Equine Voices. Join Gulliver's Fan Club and help make a difference in Gulliver's life! You will receive a special sticker, VIP tour, a personal meeting with Gulliver and updates as to the happenings at the sanctuary. Can you spare just .33 cents a day or one cup of coffee? To join this special program, Click Here and a short ways down the homepage on the right is "Gulliver's" Fan Club Sign Up or contact us at info@equinevoices.org, call the main office at 520-398-2814 or go online and sign up today. It's easy, fun and you will make a huge difference in Gulliver's life!!

–Thank You "Gulliver"
Shop At Amazon And Help The Horses!
Shop at Amazon.com


"Gulliver" would like to invite you to shop at our partners programs and help the horses at the same time! By shopping online at Amazon, you will have the satisfaction of knowing that 10 percent of your purchases will go to the horses of Equine Voices. It's simple, quick and convenient and you never have to leave your home. Click Here and find the Amazon Icon on the top of the homepage, right after the GFAS logo. Or just click on the icons below.

Thank You as always, for your continued love & support, "Gulliver" and Friends

---
Gulliver Fan Club
If you love Gulliver and would like to support the horses at Equine Voices Rescue & Sanctuary, please join "Gulliver's Fan Club". For only $10/month, you can be part of helping Gulliver spread the word about the plight of the foals bred for the PMU industry.
Join The Gulliver Fan Club!

Sponsor a Horse
Sponsoring a horse is a wonderful way to help if you have limited time, space or finances and can't commit to a life time of horse care. With the sponsorship, you will receive a beautifully framed picture of the horse you've chosen and their story. For an annual sponsorship you will also receive a beautiful Cowboys Collectible horse hair key chain. Colors and styles may vary based on availability.
Click Here to Sponsor!
For more info contact us at info@equinevoices.org