Gulliver Fan Club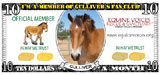 For only $10/month, you can help "Gulliver" spread the word about the plight of the foals bred for the PMU industry by joining the "Gulliver Fan Club"
Learn More...
Gulliver & Friends
Legacy Fund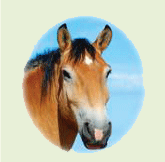 Consider Equine Voices as your charity of choice and help make a difference in the lives of the horses today and beyond.
Learn More...
Nicholas aka "Nick": Legacy Fund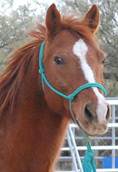 The Nick Legacy Fund has been created in Nick's memory to help us assist other horses like Nick. Our goal is to offer "over and above" medical services to horses who require special medical assistance.
Learn More...
Shop At Amazon And Help The Horses!




By shopping online at Amazon, 10% of your purchases will go to the horses of Equine Voices. It's simple, quick and convenient and you never have to leave your home. Find the Amazon Icon on the top right corner of the homepage, right after the Benefit Wines logo. Or use the icons above.
Shop from Gulliver's Wishlist on Amazon


By simply shopping for the horses, you can help Equine Voices by giving the horses what they need most. Gulliver's Sherpa, Nancy, will continue to update items needed for all the horses that reside at Equine Voices and those fostered by updating the list regularly.
Gulliver's Wishlist
In Loving Memory of Smokey Joe
With a heavy and open heart, I wanted to share with all of you that on Tuesday June 10th, Smokey Joe was once again set free. Smokey Joe was a free and wild mustang who in his younger days lived on the open range. He was captured by the BLM and sentenced to life in captivity. In his later years, Smokey Joe was starved and neglected, until he came to Equine Voices. Smokey Joe touched many. His gentle spirit and sweet soul had five years of love, daily walks, special supplements, and most of all, all the care he required. Smokey Joe is now running free with all those beautiful equines who shared the sacred space of the sanctuary and all of his mustang friends who also once ran free. Smokey, you will be missed, we love you! Karen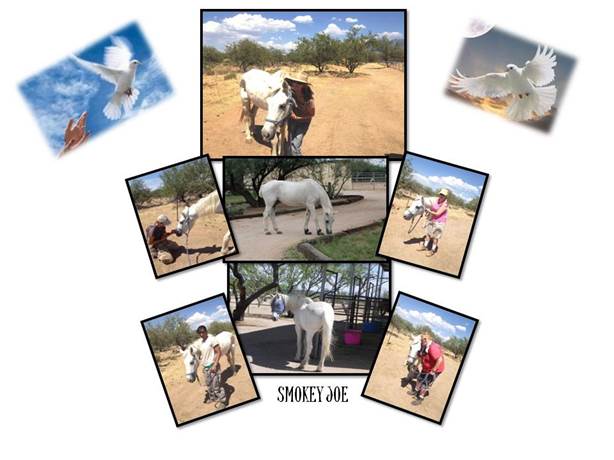 RIP Smokey Joe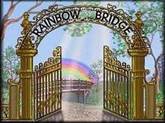 Just this side of heaven is a place called Rainbow Bridge.

When an animal dies that has been especially close to someone here, that pet goes to Rainbow Bridge. There are meadows and hills for all of our special friends so they can run and play together. There is plenty of food, water and sunshine, and our friends are warm and comfortable.

All the animals who had been ill and old are restored to health and vigor. Those who were hurt or maimed are made whole and strong again, just as we remember them in our dreams of days and times gone by. The animals are happy and content, except for one small thing; they each miss someone very special to them, who had to be left behind.

They all run and play together, but the day comes when one suddenly stops and looks into the distance. His bright eyes are intent. His eager body quivers. Suddenly he begins to run from the group, flying over the green grass, his legs carrying him faster and faster.

You have been spotted, and when you and your special friend finally meet, you cling together in joyous reunion, never to be parted again. The happy kisses rain upon your face; your hands again caress the beloved head, and you look once more into the trusting eyes of your pet, so long gone from your life but never absent from your heart. Then you cross Rainbow Bridge together...

Author unknown...

A Poem For Smokey Joe

Miss Me - But Let Me Go

When I come to the end of the road and the sun has set for me,
I want no rites in a gloom filled room
Why cry for a soul set free?
Miss me a little - but not too long
and not with your head bowed low,
Remember the love that we once shared
Miss me- but let me go.
For this journey that we all must take
and each must go alone,
It's all part of the Master plan
a step on the road to home.
When you are lonely and sick at heart
go to the friends we know,
and bury your sorrows in doing good deeds.
Miss me-but let me go

My Story About Smokey Joe
By: Kristin Carrington
I had no horse experience at all before I started volunteering at Equine Voices. I was as green as green could be, and I was actually very nervous when I was around them. I mean, c'mon. They are huge animals. Maybe not elephant huge, but they are a lot bigger than my 80 lb German Shepherd. The more time I got to spend with them, the more comfortable I became. As I learned to work with each horse, I became cognizant of the fact that they all were testing me; sometimes making the journey difficult with my patience. Looking back, I realized that by passing their "tests", I had become more comfortable around those crazy love bugs. My love and respect for them grew, and the trust between me and them sometimes even astounds me, especially, my relationship with my dear friend Smokey Joe.

Smokey Joe was always testing me. My arms, abdomen, and my butt have all been the victim to my "wrong responses". I think many can attest to that. For the longest time I had a difficult time when I had to pick out his two front feet. A past volunteer was able to tap on Smokey's hooves and he would lift them right up. I would try that with no such luck. I had to find a different way to get Smokey to lift his feet for me without being eaten. My technique started as a joke; I didn't know if Smokey would take me seriously. One day I asked him which foot he wanted to start with and he would take the weight off of the foot that I had to clean first. My technique worked!! I came out unscathed. I kept my skin. Or should I say he let me keep my skin.

Smokey Joe had a lot of pain in his feet and you could see it when he walked. The minute you strapped on his penny loafers, it was like he was a different horse. I could walk him anywhere on the ranch, even in the trees behind the hay barn. Each time we walked together was amazing. For a horse that had severe hoof problems, he loved his walks. But my favorite memories of Smokey Joe were when we were not moving. His nap times were my 'slow down and enjoy the moment' times. I would sit with him, lean on him, or even lay next to him while he napped. Occasionally, the sleepy guy would rest his head on my lap as I softly ran my fingers through his hair and coat.

These horses have a way of capturing our hearts, and Smokey Joe sure was one to do so. My mom, who lives in Pennsylvania, got to meet and hang out with Smokey twice. On both visits, my mom got to take Smokey for a walk. When they would stop along the trail, he would turn his head toward her, and put his head up to hers or lean gently into her. Smokey had my mom at "hello". So much so that she would always end our phone conversations with "Give Smokey a hug and a kiss for me".

Life is all about the journey. It defines who we are and shapes who we will become -- two legged and four legged alike. Having someone in our lives to help us through the tough times and laugh with us for no reason at all is an irreplaceable treasure. Smokey Joe and the others have helped me through some tough times, and have made me laugh until my head hurt. I am so grateful to have shared my journey with Smokey Joe, and was honored to be with him as his came to an end. We all love you, Smokey, and will never forget our time together. You will always be my Fuzzy Wuzzy. Run to the others and walk with no more pain.

Leave a Legacy: Gulliver & Friends Legacy Fund
Consider Equine Voices as your charity of choice and help make a difference in the lives of the horses today and beyond by designating Equine Voices in your estate planning.
Visit our website for more information and how to give.

"Gulliver's" Fan Club

For just $10.00 a month (.33 cents a day), you can support our Big Boy Gulliver, mascot of Equine Voices. Join Gulliver's Fan Club and help make a difference in Gulliver's life! You will receive a special sticker, VIP tour, a personal meeting with Gulliver and updates as to the happenings at the sanctuary. Can you spare just .33 cents a day or one cup of coffee? To join this special program, Click Here and a short ways down the homepage on the right is "Gulliver's" Fan Club Sign Up or contact us at info@equinevoices.org, call the main office at 520-398-2814 or go online and sign up today. It's easy, fun and you will make a huge difference in Gulliver's life!!

Thank You "Gulliver"
Shop At Amazon And Help The Horses!
Shop at Amazon.com

"Gulliver" would like to invite you to shop at our partners programs and help the horses at the same time! By shopping online at Amazon, you will have the satisfaction of knowing that 10 percent of your purchases will go to the horses of Equine Voices. It's simple, quick and convenient and you never have to leave your home. Click Here and find the Amazon Icon on the top of the homepage, right after the GFAS logo. Or just click on the icons below.
Thank You as always, for your continued love & support, "Gulliver" and Friends

Don't forget to check in with Equine Voices new Blog - "Ramblings from the Ranch"...
click here to check it out!
---
Gulliver Fan Club
If you love Gulliver and would like to support the horses at Equine Voices Rescue & Sanctuary, please join "Gulliver's Fan Club". For only $10/month, you can be part of helping Gulliver spread the word about the plight of the foals bred for the PMU industry.
Join The Gulliver Fan Club!

Sponsor a Horse
Sponsoring a horse is a wonderful way to help if you have limited time, space or finances and can't commit to a life time of horse care. With the sponsorship, you will receive a beautifully framed picture of the horse you've chosen and their story. For an annual sponsorship you will also receive a beautiful Cowboys Collectible horse hair key chain. Colors and styles may vary based on availability.
Click Here to Sponsor!
For more info contact us at info@equinevoices.org