Gulliver Fan Club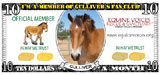 For only $10/month, you can help "Gulliver" spread the word about the plight of the foals bred for the PMU industry by joining the "Gulliver Fan Club"
Learn More...
Gulliver & Friends
Legacy Fund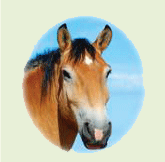 Consider Equine Voices as your charity of choice and help make a difference in the lives of the horses today and beyond.
Learn More...
Nicholas aka "Nick": Legacy Fund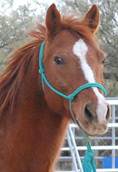 The Nick Legacy Fund has been created in Nick's memory to help us assist other horses like Nick. Our goal is to offer "over and above" medical services to horses who require special medical assistance.
Learn More...
Shop At Amazon And Help The Horses!




By shopping online at Amazon, 10% of your purchases will go to the horses of Equine Voices. It's simple, quick and convenient and you never have to leave your home. Find the Amazon Icon on the top right corner of the homepage, right after the Benefit Wines logo. Or use the icons above.
Shop from Gulliver's Wishlist on Amazon


By simply shopping for the horses, you can help Equine Voices by giving the horses what they need most. Please check out Gulliver's Wishlist to learn more.
Coming Soon – Gulliver & Friends Boutique

We need volunteers to help with the following:


---

• Working in the store

• Selling store items and tack

• Processing donations

• Picking up donated items

---

Please support Equine Voices by donating your items to sell in our boutique. Stay tuned for information on our grand opening which is tentatively set for September, 2016.

To volunteer and/or to donate contact Angie in the office at angie@equinevoices.org or (520) 398-2814.
Horses and Heat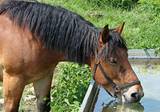 Part of the responsibility of having horses is knowing what stresses them and managing those stressors in a natural way. Here in Arizona, we are hitting three digit temperatures so, the heat is on! Here is what we do to deal with it:

Water – This may seem obvious but making sure your horse has plenty of water is pertinent to their health. An average-sized horse can consume over 25 gallons a day! If you have a bather, meaning a horse that uses the water trough as a personal swimming pool, an automatic water system or extra trough may be needed.

Electrolytes – Keep salt blocks readily available for the horse or add an electrolyte supplement to their regimen. This is imperative as electrolyte loss can lead to very serious issues in the horse including colic.

Shelter – Make sure your horse has plenty of shade throughout the day with trees or a three-sided shelter. If the horse is in a stall, make sure there is adequate ventilation and fans; a mist system is also a great way to keep your horse cool.

Feed – Just as in the Winter, a horse does much of their temperature regulation through the food they eat. Make sure to provide good-quality hay on a schedule.

Sunscreen – If your horse has light patches or pink skin, sunscreen may need to be applied in those areas during sun exposure. It is hard to tell a horse they shouldn't be in the sun all day without it! A fly mask with ear covers and a longer nose cover can also supply protection.

Showers – If your horse is not the bather we mentioned above, a garden hose is a great way to cool them down. If your horse has never experienced the hose, introduce it low and slow, working your way up from the feet.

Remember, keeping your horse healthy can start at just relieving some of the stresses he encounters. Knowing your horse and his normal activity will help provide clues to when he maybe isn't feeling his best. Call a vet if there is any doubt.
Virginia Fundraiser for Equine Voices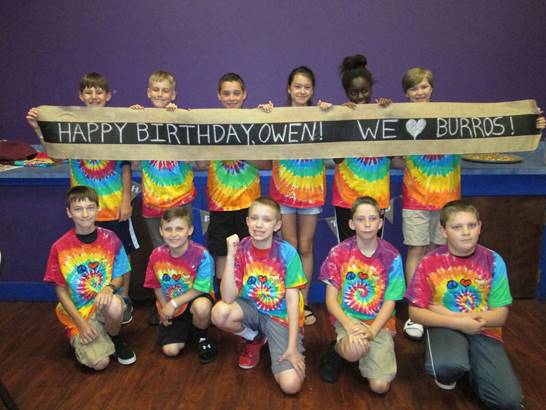 I am Owen Butler and I live in Culpeper, Virginia. I had my 12th birthday party recently. It was really fun. I got all of my friends together and had a bowling party! Plus, we all got to help out with a great organization! Everyone here loved it!

I decided to ask for monetary donations to Equine Voices Rescue & Sanctuary. We raised over one hundred dollars! One of my friends decided to sponsor a horse and another joined Gulliver's Fan Club!

I got to visit the ranch in Arizona two years ago. It was amazing. I got to visit with Karen Pomroy, the founder of the sanctuary. I met a lot of horses there. We just went to Puerto Rico with Miss Karen and she told us all about the new burros. She showed us the pictures of one who had a baby right when we got back from the trip! In conclusion, getting to do this was amazing!

PS – My Mom made the burro cupcakes for all my friends!

Thank you Owen for being such an awesome guy! Happy Birthday from all of us at Equine Voices Rescue & Sanctuary.
2016 Mustang Raffle



Jim Click is donating this 2016 Ford Mustang Shelby GT350. The iconic Mustang, an American muscle car, burst onto the scene in 1964 and never looked back. The Ford Motor Company is building 4,300 this year making this a collector's item! The approximate MSRP is $47,000. Tickets are $25 each or 5 for $100. This is your chance to win a lot of horses and helping horses at the same time. Each participating charity who sells tickets will keep the proceeds from the tickets sold. Contact Angie in the office at 520-398-2814 or angie@equinevoices.org to get your tickets. For more details on the raffle click here. For more details on the car you could win click here. Thank you and good luck!
For Sale or Trade – Dump Trailer
2001 Tilt/Dump Trailer for Sale $3,800 or trade for a lightly used flatbed trailer.

New Battery, tires are in great condition.

Length: 10 feet Width: 6.5 feet Depth: 2 feet

If interested please contact Angie in the office: angie@equinevoices.org or 520-398-2814

We are hitting 3-digit temperatures here at the ranch. We just want to thank our awesome volunteers for taking the heat for the horses! You are the best!
Leave a Legacy: Gulliver & Friends Legacy Fund
Consider Equine Voices as your charity of choice and help make a difference in the lives of the horses today and beyond by designating Equine Voices in your estate planning.
Visit our website for more information and how to give.

"Gulliver's" Fan Club

For just $10.00 a month (.33 cents a day), you can support our Big Boy Gulliver, mascot of Equine Voices. Join Gulliver's Fan Club and help make a difference in Gulliver's life! You will receive a special sticker, VIP tour, a personal meeting with Gulliver and updates as to the happenings at the sanctuary. Can you spare just .33 cents a day or one cup of coffee? To join this special program, Click Here and a short ways down the homepage on the right is "Gulliver's" Fan Club Sign Up or contact us at info@equinevoices.org, call the main office at 520-398-2814 or go online and sign up today. It's easy, fun and you will make a huge difference in Gulliver's life!!

–Thank You "Gulliver"
Shop At Amazon And Help The Horses!
Shop at Amazon.com


"Gulliver" would like to invite you to shop at our partners programs and help the horses at the same time! By shopping online at Amazon, you will have the satisfaction of knowing that 10 percent of your purchases will go to the horses of Equine Voices. It's simple, quick and convenient and you never have to leave your home. Click Here and find the Amazon Icon on the top of the homepage, right after the GFAS logo. Or just click on the icons below.

Thank You as always, for your continued love & support, "Gulliver" and Friends

---
Gulliver Fan Club
If you love Gulliver and would like to support the horses at Equine Voices Rescue & Sanctuary, please join "Gulliver's Fan Club". For only $10/month, you can be part of helping Gulliver spread the word about the plight of the foals bred for the PMU industry.
Join The Gulliver Fan Club!

Sponsor a Horse
Sponsoring a horse is a wonderful way to help if you have limited time, space or finances and can't commit to a life time of horse care. With the sponsorship, you will receive a beautifully framed picture of the horse you've chosen and their story. For an annual sponsorship you will also receive a beautiful Cowboys Collectible horse hair key chain. Colors and styles may vary based on availability.
Click Here to Sponsor!
For more info contact us at info@equinevoices.org