Accredited

Gulliver Fan Club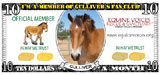 For only $10/month, you can help "Gulliver" spread the word about the plight of the foals bred for the PMU industry by joining the "Gulliver Fan Club"
Learn More...
Gulliver & Friends
Legacy Fund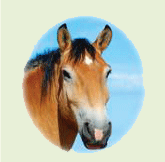 Consider Equine Voices as your charity of choice and help make a difference in the lives of the horses today and beyond.
Learn More...
Nicholas aka "Nick": Legacy Fund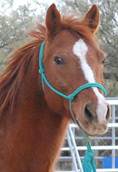 The Nick Legacy Fund has been created in Nick's memory to help us assist other horses like Nick. Our goal is to offer "over and above" medical services to horses who require special medical assistance.
Learn More...
Shop from Gulliver's Wishlist on Amazon


By simply shopping for the horses, you can help Equine Voices by giving the horses what they need most. Gulliver's Sherpa, Nancy, will continue to update items needed for all the horses that reside at Equine Voices and those fostered by updating the list regularly.
Gilliver's Wishlist
Charlotte Is Looking For That
Special Someone To Sponsor Her
Charlotte is a former Premarin mare who is retired and living a natural life in Portal, Arizona. Charlotte is looking for a sponsor to help with her feed costs. Won't you consider sponsoring this beautiful mare?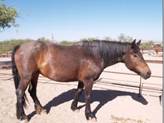 Charlotte

If you would like to sponsor Charlotte, please visit our website sponsor page by Clicking Here. you can contact us at info@equinevoices.org or by calling 520-398-9312.
We Have Exciting News:
"Gulliver" Is Turning 10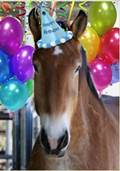 Happy Birthday "Gulliver"
Celebrate his birthday with us and consider giving:
Donate $10 -$1 for each year
Donate $100 -$10 for each year
Join Gulliver's Fan Club and contribute $10 a month.
Join us in wishing Gulliver a Very Happy 10th Birthday!

Visit Our Homepage To Donate
Or
Send your tax-deductible donation to: (Please mark for Gulliver's 10th birthday)
Equine Voices
PO Box 1685, Green Valley, AZ 85622

Come and join Gulliver and his friends!!
Gulliver turns 10 on June 24th and we want you to
come and celebrate with him!
For directions please contact us at
520-398-2814 or email nancy@equinevoices.org

Click Here for Gulliver's Birthday Party Invitation & Wishlist

When: Monday, June 24th, 2013- 10 am-11 am
Where: Equine Voices, Amado AZ

EQUINE VOICES STEPS IN AND SAVES TWO HORSES FROM SERIOUS NEGLECT!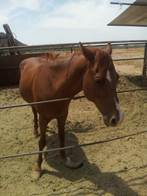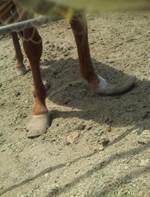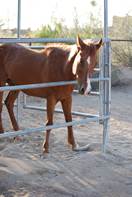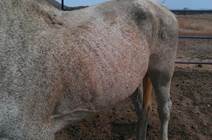 On Friday June 14th, Equine Voices received a frantic call from a young lady that told us her father would go to jail if they didn't do something with their two horses. The horses were located off Carefree Highway in Phoenix, and they needed a home ASAP. We contacted our very good friend Karin Johnson, as she lives in the area, and asked if she would do a site visit and take a look at the horses. She obliged and took her trailer in the event we needed to remove the horses immediately. Karin has helped us with many rescues, but this one, was one of the worst cases of hoof neglect she had ever seen. She stood and looked at the sorrel, and wondered how he could even walk. His front left hoof looked like a ski.

How could humans do this to these two horses? The 28 year old gray's feet were in better condition, but by the looks of them they hadn't been trimmed in at least eight months, the sorrel, at least two years. Karin contacted me and suggested we remove the horses from their current home immediately. Who knows what would happen to them if we didn't intervene? Once at her home, Karin quickly realized that the sorrel was behaving as a stallion, and wondered if he was a criptoid. The veterinarian was called and she agreed with the assessment, but we wouldn't know for sure unless blood work was done to determine if he still had one testicle, which is why he could be aggressive and studly. As of Saturday, they both have seen the vet and the gentle gray has had his feet trimmed. But the work and cost of getting the horses to normal health has only begun.

For now, we will take baby steps and hope that some of you find it in your hearts to help us with feed, farrier and veterinary costs. By week's end, the basic expenses will be approximately $600, at which point we will determine if the sorrel will need surgery. Until then, we are relieved these two horses have found a temporary home until their permanent home can been found.

To donate to help these two horses with feed, farrier services and veterinary costs, please send your tax-deductible donation to: (Please note for Phx horses)
Equine Voices
PO Box 1685, Green Valley, AZ 85622

Or if you would like to donate online Click Here to visit our website: (Please note for Phx horses)

Thank you for helping us help them!




House Appropriations Committee Votes to Block Horse Slaughter From Resuming on U.S. Soil

HSUS – June 13. 2013 WASHINGTON (June 13, 2013)—The U.S. House Appropriations Committee has voted to block funding for inspections at prospective horse slaughter plants, which if it survives the entire legislative process, would halt any effort to resume slaughter for these animals on U.S. soil. The committee backed, by a voice vote, an amendment Full Article
Vet Tech Students Visit The Sanctuary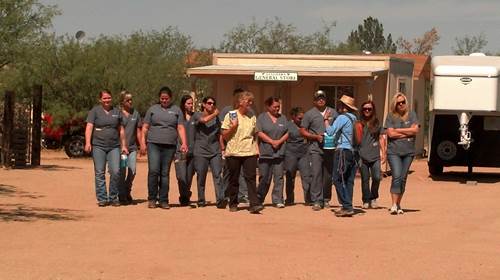 Diane Russell toured thirteen Carrington College vet tech students who visited Equine Voices to meet the special horses that are in our care. Jean Welch, our Ranch Manager demonstrated the process of daily care Kachina receives and they all were able to tour the ranch and meet all of our sanctuary residents. Thank you for visiting and come back soon!
Shop At Amazon And Help The Horses!

By shopping online at Amazon, 10% of your purchases will go to the horses of Equine Voices. It's simple, quick and convenient and you never have to leave your home. Find the Amazon Icon on the top right corner of the homepage, right after the Benefit Wines logo. Or use the icons below.
Don't forget to check in with Equine Voices new Blog - "Ramblings from the Ranch"...
click here to check it out!
---