Accredited

Gulliver Fan Club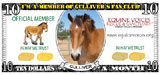 For only $10/month, you can help "Gulliver" spread the word about the plight of the foals bred for the PMU industry by joining the "Gulliver Fan Club"
Learn More...
Gulliver & Friends
Legacy Fund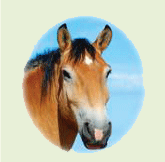 Consider Equine Voices as your charity of choice and help make a difference in the lives of the horses today and beyond.
Learn More...
Nicholas aka "Nick": Legacy Fund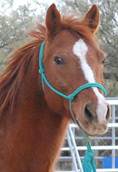 The Nick Legacy Fund has been created in Nick's memory to help us assist other horses like Nick. Our goal is to offer "over and above" medical services to horses who require special medical assistance.
Learn More...
Shop At Amazon And Help The Horses!




By shopping online at Amazon, 10% of your purchases will go to the horses of Equine Voices. It's simple, quick and convenient and you never have to leave your home. Find the Amazon Icon on the top right corner of the homepage, right after the Benefit Wines logo. Or use the icons above.
Shop from Gulliver's Wishlist on Amazon


By simply shopping for the horses, you can help Equine Voices by giving the horses what they need most. Gulliver's Sherpa, Nancy, will continue to update items needed for all the horses that reside at Equine Voices and those fostered by updating the list regularly.
Gilliver's Wishlist
July 1st - 90 Burros Will be Auctioned!
Because of your help, last year we rescued 19 burros, many of which were pregnant.
We raised the necessary funds to bring them to safety and found homes for all of them. Today we were notified that there are 90 wild burros being auctioned off on Monday, July 1st, in Buckeye, Arizona. Equine Voices has pledged $1,000 to help save these innocent lives. We need to raise a minimum of $90 per burro, to get them out of the auction, and to safety for a minimum total of $8,100. Will you consider helping us with this major rescue? Permanent homes and foster homes will be needed ASAP.
To donate to this rescue please click here, or send your tax deductible donation to:
Equine Voices
PO Box 1685
Green Valley, AZ 85622
Note - "Buckeye Burros"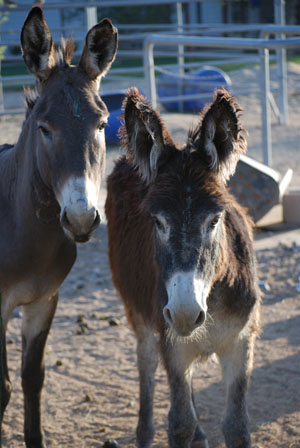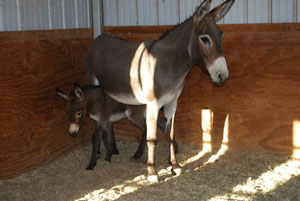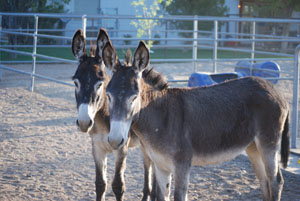 "Gulliver's"
10th Birthday Party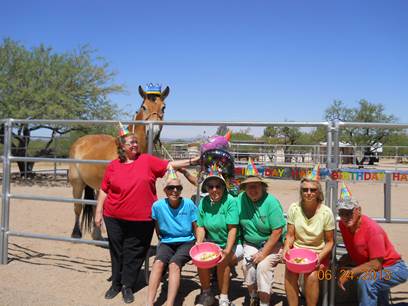 Click Here To View Videos of Gulliver's Birthday Party
On Our Equine Voices YouTube Channel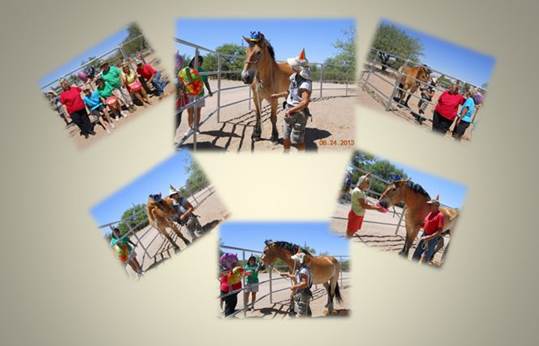 A Very Happy 10th Birthday to our special mascot "Gulliver".
Fun was had by all, especially our gentle giant!!
To all of you who helped us with the purchase of a truck and trailer a HUGE thank you! Now we can all rest knowing that Gulliver can be moved at any time, especially in an emergency!!

With Gratitude,
All of us at Equine Voices
‏