Annabella Is Looking For That Special Someone To Adopt Or Sponsor Her

Annabella's mother is a former PMU mare and was pregnant with Annabella when she was rescued. Annabella is now three and looking for someone to adopt her and give her that forever home. In the meantime, won't you consider sponsoring her?


If you would like to adopt or sponsor Annabella, please visit our website adoption page by Clicking Here or our sponsor page by Clicking Here. To visit the sanctuary and meet Annabella you can contact us at info@ equinevoices.org or by calling 520-398-9312.

June 26, 2012 | Action Alerts
Voice Your Opposition to the BLM's Proposed Roundup of 700 Wild Horses in Eastern Nevada (Diamond Complex)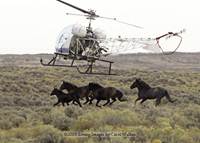 The Bureau of Land Management (BLM) is asking the public to provide "any concerns for consideration" and information regarding the agency's proposed roundup and removal of 700 wild horses in the Diamond Complex in the Battle Mountain District in central Nevada. This roundup would leave behind just 126 wild horses on more than 255,000 acres of public lands (that's nearly 400 square miles). Meanwhile, thousands of livestock continue to be permitted to graze year-round in these same areas.

Please take a minute to tell the BLM that continuing to remove wild horses will not solve the problem of degraded rangeland and that reducing livestock numbers while humanely managing horse herds on the range is what is needed to improve range conditions. To submit your comments and send a personalized email to the BLM please click here or below. To read more.... Click Here

BIG NEWS! Moran Amendment Passes Committee-Washington, D.C.--The language to disallow funding for inspections, originally passed into law in 2005 with bipartisan support, has effectively halted horse slaughter operations on American soil for years-that is, until late last year when three legislators quietly removed it from the Fiscal Year 2012 Appropriations bill behind closed doors during the reconciliation process.

To read more Click Here.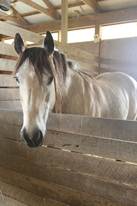 Champ AKA Neptune Adopted By Lloyd and Jan Mower And Now Lives In Colorado
It took Champ 3 turnout sessions over a 36 hour time period to make himself part of our herd. During that time, we had a remarkable primer on herd dynamics and saw some revealing aspects of our 3 horses as they worked out the new kid. Blondie, who has been a terrible cribber and we thought the low horse in the pecking order, has wonderfully emerged as our lead mare. When we first turned Champ out with the others, we started by putting him out with just Karen (our dominant mare) and then, when all seemed calmed, with Magic, our gelding. Those two basically paid no attention to little Champ. However, when we added Blondie to the mix, she chased him away from the others and then they started mimicking her behavior and chasing him. He did a great job of running, evading, and then returning to the herd, asking sweetly over and over if he could join up with them. Due to the heat and their basic good natures, the chasing wasn't too aggressive and the older horses just stopped when they'd made their point. Finally, during the third session, Magic started toward him with his ears pinned and Blondie walked right between Magic and Champ and just casually stood there grazing, as if to say "leave the kid alone, he's alright with me." That was it. Champ remains quite attached to Blondie and pretty much shadows her every move. Yesterday, she was out for some exercise and we were working with him I his pen, just doing a little grooming and picking feet. He realized he couldn't see her, called to her, and here she came running as fast as she could right to him. He is quite comfortably settled in now and we're trying to just let him be a part of the herd, now that we feel he's safe. He is so centered and calm, he just amazes us. I think he and Lloyd are going to have a lot of fun together and I'm hoping I get to participate as well!

By Jan Mower
Leave a Legacy: Gulliver & Friends Legacy Fund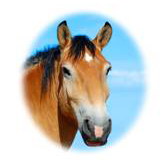 Consider Equine Voices as your charity of choice and help make a difference in the lives of the horses today and beyond by designating Equine Voices in your estate plan. Click Here to visit our website for more information and how to give.

"Gulliver's" Fan Club
For just $10.00 a month (.33 cents a day), you can support our Big Boy Gulliver, mascot of Equine Voices. Join Gulliver's Fan Club and help make a difference in Gulliver's life! You will receive a special sticker, VIP tour, a personal meeting with Gulliver and updates as to the happenings at the sanctuary. Can you spare just .33 cents a day or one cup of coffee? To join this special program, Click Here and a short ways down the homepage on the right is "Gulliver's" Fan Club Sign Up or contact us at info@equinevoices.org, call the main office at 520-398-2814 or go online and sign up today. It's easy, fun and you will make a huge difference in Gulliver's life!!

Thank You "Gulliver"
How you can shop and help the horses through our Partners Program
Shop at Amazon.com

"Gulliver" would like to invite you to shop at our partners programs and help the horses at the same time! By shopping online at Amazon, you will have the satisfaction of knowing that 10 percent of your purchases will go to the horses of Equine Voices. It's simple, quick and convenient and you never have to leave your home. Click Here and find the Amazon Icon on the top of the homepage, right after the GFAS logo. Or just click on the icons below.
Thank You as always, for your continued love & support, "Gulliver" and Friends

Don't forget to check in with Equine Voices new Blog - "Ramblings from the Ranch"...
click here to check it out!
---
Gulliver Fan Club
If you love Gulliver and would like to support the horses at Equine Voices Rescue & Sanctuary, please join "Gulliver's Fan Club". For only $10/month, you can be part of helping Gulliver spread the word about the plight of the foals bred for the PMU industry.
Join The Gulliver Fan Club!

Sponsor a Horse
Sponsoring a horse is a wonderful way to help if you have limited time, space or finances and can't commit to a life time of horse care. With the sponsorship, you will receive a beautifully framed picture of the horse you've chosen and their story. For an annual sponsorship you will also receive a beautiful Cowboys Collectible horse hair key chain. Colors and styles may vary based on availability.
Click Here to Sponsor!
For more info contact us at info@equinevoices.org