Spanky is Looking for that Special Someone to Sponsor Him

Spanky is an 8 year old draft cross former PMU foal and part of the Foundation Herd. He is looking for a sponsor to love him. Won't you consider sponsoring him?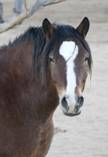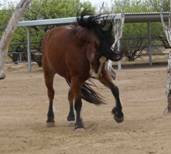 My name is Spanky
I would love to have you
sponsor me.
If you would like to sponsor Spanky, please visit our website sponsor page by Clicking Here. You also can email us at info@ equinevoices.org or call the office at 520-398-9312 with any questions or if you would like to come and meet Spanky.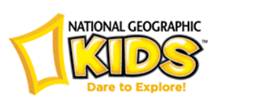 Equine Voices Featured in the June/July 2012 issue of National Geographic for Kids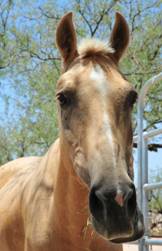 The article features one of our sanctuary horses "Sundance". The article is titled "Lost in the desert, a starving horse finds a safe new home" To view the article visit our website homepage by clicking here and under What's Up? Equine Voices Newsflash.

Great News - With much public outcry and the many petitions signed and submitted it looks as though early reports are saying that the Donkey Roping Event in Van Horn, TX has been cancelled… Were the people able to move the mountain on this one? …Hold your breath! Thank you all for your support to end this ridiculously cruel "sport"!
Urgent-Petition and donor drive to stop donkey roping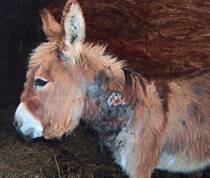 Donkey roping is an extremely cruel "sport" where the donkey is shocked with a cattle prod until he tries to run away. Once in motion two people on horseback run the donkey down, one throwing a rope around its neck, the other around its rear legs. Once roped the donkey is then stretched between the two horses. Broken bones and death are all too common during these events. Click Here to visit the Peaceful Valley Donkey Rescue to add your name to the petition to STOP Donkey Roping and/or to donate to this very important campaign.

Leave a Legacy: Gulliver & Friends Legacy Fund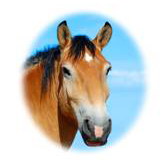 Make a Difference in the Lives That Follow-
The Horses of Equine Voices

Click Here to visit our website and learn how to give

"Gulliver's" Fan Club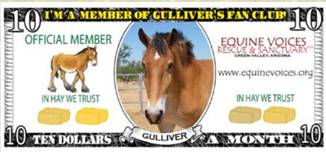 For just $10.00 a month (.33 cents a day), you can support our Big Boy Gulliver, mascot of Equine Voices. Join Gulliver's Fan Club and help make a difference in Gulliver's life! You will receive a special sticker, VIP tour, a personal meeting with Gulliver and updates as to the happenings at the sanctuary. Can you spare just .33 cents a day or one cup of coffee? To join this special program, Click Here and a short ways down the homepage on the right is "Gulliver's" Fan Club Sign Up or contact us at info@equinevoices.org, call the main office at 520-398-2814 or go online and sign up today. It's easy, fun and you will make a huge difference in Gulliver's life!!

Thank You "Gulliver"
The many different ways you can help the horses of
Equine Voices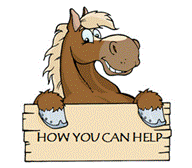 How you can shop and help the horses through our Partners Program
Shop at Amazon.com

"Gulliver" would like to invite you to shop at our partners programs and help the horses at the same time! By shopping online at Amazon, you will have the satisfaction of knowing that 10 percent of your purchases will go to the horses of Equine Voices. It's simple, quick and convenient and you never have to leave your home. Click Here and find the Amazon Icon on the top of the homepage, right after the GFAS logo. Or just click on the icons below.
Thank You as always, for your continued love & support, "Gulliver" and Friends

Don't forget to check in with Equine Voices new Blog - "Ramblings from the Ranch"...
click here to check it out!
---
Gulliver Fan Club
If you love Gulliver and would like to support the horses at Equine Voices Rescue & Sanctuary, please join "Gulliver's Fan Club". For only $10/month, you can be part of helping Gulliver spread the word about the plight of the foals bred for the PMU industry.
Join The Gulliver Fan Club!

Sponsor a Horse
Sponsoring a horse is a wonderful way to help if you have limited time, space or finances and can't commit to a life time of horse care. With the sponsorship, you will receive a beautifully framed picture of the horse you've chosen and their story. For an annual sponsorship you will also receive a beautiful Cowboys Collectible horse hair key chain. Colors and styles may vary based on availability.
Click Here to Sponsor!
For more info contact us at info@equinevoices.org