Illusion Is Looking For That Special Someone
To Adopt Or Sponsor Her

Illusion is looking for someone to sponsor or adopt her. This gorgeous buckskin mare is looking for that perfect person to take her under their wing. Illusion does need a forever home with an experienced and loving person.


If you would like to adopt or sponsor Illusion, please visit our website adoption page by Clicking Here or our sponsor page by Clicking Here. To visit the sanctuary and meet Illusion you can contact us at info@ equinevoices.org or by calling 520-398-9312.
July 17, 2012 | Horsemeat and Drugs
Article by Jerry Finch of Habitat for Horses

What they DON'T want you to know...
This article has been a major collaborative effort. Within these pages you will find absolute, scientific proof that horse meat from the US is deadly. To dispute these facts is to deny any role that science plays in research of the effects of chemicals on the human body. For those in the US, this tells of why a Federal system once concerned about food safety decided to bend the rules to benefit a few foreign companies. For those in the horse meat eating countries, read closely, for this will tell you why you are not feeling well at all. While long and detailed, this knowledge is vital to those wanting to know the truth about horsemeat and drugs. Read more on Horsemeat and Drugs.
Youth Volunteer Center of Southern Arizona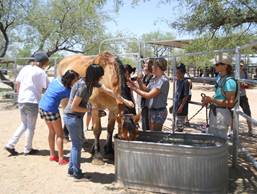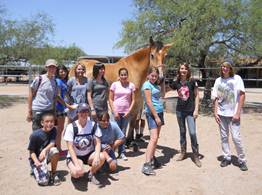 We have worked with the Youth Volunteer Center since 2008. Thank you to the Green Valley Community Foundation for the funding to rent a van which makes it possible for young people to volunteer at Equine Voices. We have changed young peoples' lives, and the lives of the rescued horses that reside at Equine Voices.

This week we have twelve individuals participating in a very special week of horse care, horse chores, community garden project and caring for the land the horses reside on. Today, this wonderful group of compassionate young people, had the rare opportunity to spend time with our very own mascot; Gulliver. What would it be like to be Gulliver, a horse that at the age of 11 months old was faced with the horrible fate of going to slaughter?

Today, Gulliver, mascot of Equine Voices, lives on his own "horse resort", and is cashing in on the spa treatments twelve young people have offered to him. Thanks to all of you incredible volunteers that are here because of the Youth Volunteer Center of Southern Arizona for helping make Gulliver shine! You Kids Rock!!

Interested in volunteering at Equine Voices? Learn how to help.

"Gulliver's" Fan Club
For just $10.00 a month (.33 cents a day), you can support our Big Boy Gulliver, mascot of Equine Voices. Join Gulliver's Fan Club and help make a difference in Gulliver's life! You will receive a special sticker, VIP tour, a personal meeting with Gulliver and updates as to the happenings at the sanctuary. Can you spare just .33 cents a day or one cup of coffee? To join this special program, Click Here and a short ways down the homepage on the right is "Gulliver's" Fan Club Sign Up or contact us at info@equinevoices.org, call the main office at 520-398-2814 or go online and sign up today. It's easy, fun and you will make a huge difference in Gulliver's life!!

Thank You "Gulliver"
How you can shop and help the horses through our Partners Program
Shop at Amazon.com

"Gulliver" would like to invite you to shop at our partners programs and help the horses at the same time! By shopping online at Amazon, you will have the satisfaction of knowing that 10 percent of your purchases will go to the horses of Equine Voices. It's simple, quick and convenient and you never have to leave your home. Click Here and find the Amazon Icon on the top of the homepage, right after the GFAS logo. Or just click on the icons below.
Thank You as always, for your continued love & support, "Gulliver" and Friends

Don't forget to check in with Equine Voices new Blog - "Ramblings from the Ranch"...
click here to check it out!
---
Gulliver Fan Club
If you love Gulliver and would like to support the horses at Equine Voices Rescue & Sanctuary, please join "Gulliver's Fan Club". For only $10/month, you can be part of helping Gulliver spread the word about the plight of the foals bred for the PMU industry.
Join The Gulliver Fan Club!

Sponsor a Horse
Sponsoring a horse is a wonderful way to help if you have limited time, space or finances and can't commit to a life time of horse care. With the sponsorship, you will receive a beautifully framed picture of the horse you've chosen and their story. For an annual sponsorship you will also receive a beautiful Cowboys Collectible horse hair key chain. Colors and styles may vary based on availability.
Click Here to Sponsor!
For more info contact us at info@equinevoices.org