Gracie Is Looking For That Special Someone
To Adopt or Sponsor Her
Gracie

is a beautiful Clydesdale cross. Since arriving at Equine Voices she has become one of the sanctuary's favorites.

Gracie

is friendly, sweet and gets along well with other horses. Won't you consider adopting or sponsoring

Gracie

?

Gracie

lives at Equine Voices along with Gulliver & his friends.
Read more about Gracie
.
If you would like to adopt or sponsor Gracie, please visit our website adoption page by Clicking Here or our sponsor page by Clicking Here. To visit the sanctuary and meet Gracie you can contact us at info@ equinevoices.org or by calling 520-398-9312.
Leave a Legacy: Gulliver & Friends Legacy Fund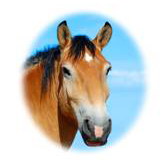 Consider Equine Voices as your charity of choice and help make a difference in the lives of the horses today and beyond by designating Equine Voices in your estate planning.
Visit our website for more information and how to give.

Investigation Updates August 2, 2012
Tennessee Auction Feeds Slaughter Market
The Knoxville Livestock Center in Mascot, TN, holds a monthly horse sale every 2nd Sat of the month at 4:00pm. When investigators arrived for the July 14th sale, they immediately noticed pens so packed full of horses that there was a lot of fighting and kicking. Investigators counted more than 400 horses in the vast pen area. Typical to other large sales, riding horses were housed much better than the "slaughter prospects". Even though other empty pens were available, the horses in the kill pens were crammed in tightly and, for at least 9 hours, had no access to water. The temperature soared at 90 degrees; it was hot and very humid. Only one fan was present and it faced away from the pens, rendering it completely useless for the horses.

The condition, in which some of the slaughter-bound horses arrived, was very poor. Several were emaciated with fresh injuries. Horses particularly noted were a grey mare with blood on her muzzle, a grey mare with a cut on her hip, and a bay gelding with open wounds around his nostrils. To Read More Click Here and to donate to help Animal Angels to continue our work and to finance our upcoming investigations! Animals' Angels counts on you, please send your donation today.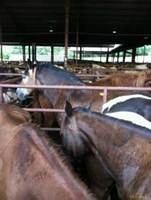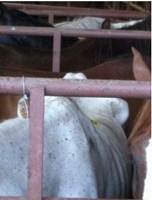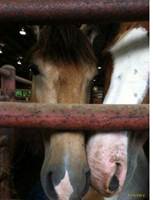 Habitat for Horses

Although working classes around the globe have been badly hit by an economic crisis, this recession has not been enough to quench the lust for horsemeat among the well-to-do in countries where it is considered a haute cuisine staple. Sadly, horsemeat consumption is on the rise because once again it is trendy. The flesh is surrounded by a halo of mythical properties and hype, promoted by horsemeat purveyors who are not mentioning the health risks to ignorant, unsuspecting individuals who eat it.

Read more of this post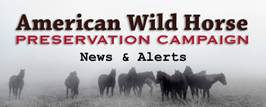 ---
Take Action


Please Oppose Unnecessary & Cruel Federal Roundup of Small Herds in Idaho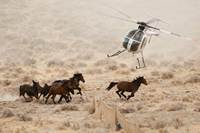 The proposed helicopter roundup of wild horses living in Idaho's Black Mountain and Hardtrigger Herd Management Areas (HMAs) is inhumane, unnecessary, and wastes tax dollars. Once again, the Bureau of Land Management (BLM) plans to remove more than 100 wild horses from these HMAs, leaving behind just 96 horses in this 114,000-acre public lands area. Due to the BLM's mismanagement of these herds -- including the continual removals that have reduced the population down to dangerously low levels -- the genetic health of these animals is in jeopardy.

The BLM thinks we will eventually go away and silently allow this inexcusable extermination of our wild horses to continue. Let's prove the agency wrong. Please speak up for these Idaho mustangs by clicking here.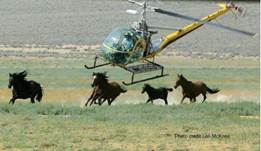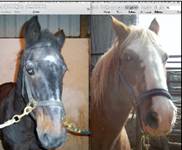 "Gulliver's" Fan Club
For just $10.00 a month (.33 cents a day), you can support our Big Boy Gulliver, mascot of Equine Voices. Join Gulliver's Fan Club and help make a difference in Gulliver's life! You will receive a special sticker, VIP tour, a personal meeting with Gulliver and updates as to the happenings at the sanctuary. Can you spare just .33 cents a day or one cup of coffee? To join this special program, Click Here and a short ways down the homepage on the right is "Gulliver's" Fan Club Sign Up or contact us at info@equinevoices.org, call the main office at 520-398-2814 or go online and sign up today. It's easy, fun and you will make a huge difference in Gulliver's life!!

Thank You "Gulliver"
Shop At Amazon And Help The Horses!
Shop at Amazon.com

"Gulliver" would like to invite you to shop at our partners programs and help the horses at the same time! By shopping online at Amazon, you will have the satisfaction of knowing that 10 percent of your purchases will go to the horses of Equine Voices. It's simple, quick and convenient and you never have to leave your home. Click Here and find the Amazon Icon on the top of the homepage, right after the GFAS logo. Or just click on the icons below
Thank You as always, for your continued love & support, "Gulliver" and Friends

Don't forget to check in with Equine Voices new Blog - "Ramblings from the Ranch"...
click here to check it out!
---
Gulliver Fan Club
If you love Gulliver and would like to support the horses at Equine Voices Rescue & Sanctuary, please join "Gulliver's Fan Club". For only $10/month, you can be part of helping Gulliver spread the word about the plight of the foals bred for the PMU industry.
Join The Gulliver Fan Club!

Sponsor a Horse
Sponsoring a horse is a wonderful way to help if you have limited time, space or finances and can't commit to a life time of horse care. With the sponsorship, you will receive a beautifully framed picture of the horse you've chosen and their story. For an annual sponsorship you will also receive a beautiful Cowboys Collectible horse hair key chain. Colors and styles may vary based on availability.
Click Here to Sponsor!
For more info contact us at info@equinevoices.org