Gulliver Fan Club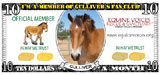 For only $10/month, you can help "Gulliver" spread the word about the plight of the foals bred for the PMU industry by joining the "Gulliver Fan Club"
Learn More...
Gulliver & Friends
Legacy Fund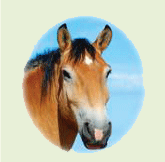 Consider Equine Voices as your charity of choice and help make a difference in the lives of the horses today and beyond.
Learn More...
Nicholas aka "Nick": Legacy Fund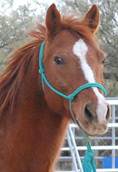 The Nick Legacy Fund has been created in Nick's memory to help us assist other horses like Nick. Our goal is to offer "over and above" medical services to horses who require special medical assistance.
Learn More...
Shop At Amazon And Help The Horses!




By shopping online at Amazon, 10% of your purchases will go to the horses of Equine Voices. It's simple, quick and convenient and you never have to leave your home. Find the Amazon Icon on the top right corner of the homepage, right after the Benefit Wines logo. Or use the icons above.
Shop from Gulliver's Wishlist on Amazon


By simply shopping for the horses, you can help Equine Voices by giving the horses what they need most. Please check out Gulliver's Wishlist to learn more.
Meet "Harley"

Harley came to us in 2006 after being saved from a Canadian feedlot along with twelve other horses. As it turned out, Harley had quite a surprise for us; the kind of surprise one would expect to find in a Cracker Jack box. A few months after her arrival, Harley gave birth to her filly who we named Spitfire. Harley is a beautiful, sweet, red roan who is looking for a sponsor and that perfect forever home. If you would like to sponsor and/or adopt Harley, please call Angie at (520) 398-2814 or email angie@equinevoices.org.
We Are Targeting September 1, 2016 As Opening Day!

If you would like to work in our new boutique and thrift store, we could really use your help. We need two people per shift – Tuesday through Sunday. First shift 10:30 (to open the store at 11:00) until 3:00, and then 3:00 to 7:00 (Close). If you are able to help at the store, call Angie at 520-398-2814 or email angie@equinevoices.org. We truly appreciate you!!

Anna Twinney Clinic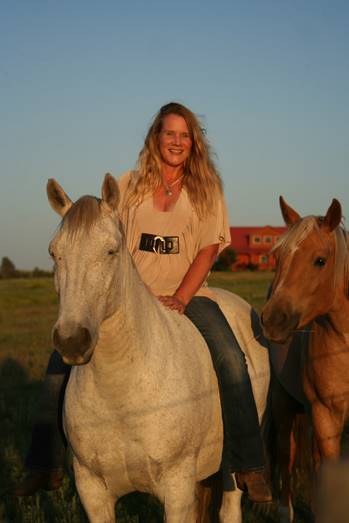 You have until September 15, 2016 to sign up for Anna's upcoming clinic at the reduced rate of $147. After September 15, the rate will go up to $199. Sign up today! See below.

November 10 & 11, 2016 – 10am-4pm (1 hour lunch break)

Topics:
Thursday, November 10th, 10am-4pm (1 hour lunch break): Approaching Horses & TLC Training / Essential Oils for Horses

Morning - You are speaking to the horses every moment you are around them and they are listening to it all. The question is, "do you know what you saying?" Anna will begin the 2 day event by showing you how even the subtlest of movement or energy shift can have a huge impact on your communication with the horses. You will discover just how to carry yourself and approach any horse. No more chases in the paddock, struggles to catch your horse, or weird, unexplained behavioral changes. Then she will share her Trust-Based Leadership and Compassionate Communication methodology. This exclusive ROTH groundwork will not only teach your horse the crucial in-hand training that every horse must know, but it will also create, develop, and strengthen your horsemanship skills and the connection and partnership between you and your horse.

Afternoon - Therapeutic Essential Oils can have a major impact on the health, emotions, mindset, and well-being of not only your horse, but all beings. Although not a cure all, Essential Oils can have a huge and sometimes seemingly instantaneous impact, and Anna will introduce you to some of the most popular and effective oils, and the myriad uses for them. She will also show you how to apply them properly and safely in the care of your horse, yourself and all your animal companions.

Friday - November 11th: Equine Health Check / Nutrition for Horses

Morning - On the second day you will learn how to keep your horse happy, healthy, and pain-free. So many behavioral issues people come across with horses are a direct result of undiagnosed and unrecognized pain. You can't expect optimal performance, or even a friendly disposition, from a horse in constant pain. Anna will take you step-by-step through the process she teaches in the ROTH Certification Foundation Course and the very practice she uses to make sure her horses are in the best physical shape they can be in. She will also reveal the critical warning signs and symptoms to watch for when evaluating your horse's health.

Afternoon - Anna continues the topic of health in the afternoon as she discusses the crucial and sometimes controversial topic of nutrition. She will finish the day by covering both feed and supplementation and show you how to discover exactly what your horse needs for optimal health and well-being and the common mistakes people often make about the health of horses.

The usual price for this info-packed 2 day event would be $400. But we have arranged a special Equine Voices price for you of over 60% off!

If you register before September 15, 2016, the cost for the entire weekend is only $147.00, $199 after September 15, 2016. That is less than $15/hr for crucial, expert training and information that every horse person needs to know.

Space is limited so don't delay. Register now.

For more information and to register, please contact Angie, angie@equinevoices.org or 520-398-2814.

Help Needed!!!

Won't you consider helping us with our new Gulliver & Friends Boutique & Thrift Store?

Please contact Angie at angie@equinevoices.org for more information.

To all of you wonderful volunteers, THANK YOU!!!

Leave a Legacy: Gulliver & Friends Legacy Fund
Consider Equine Voices as your charity of choice and help make a difference in the lives of the horses today and beyond by designating Equine Voices in your estate planning.
Visit our website for more information and how to give.

"Gulliver's" Fan Club

For just $10.00 a month (.33 cents a day), you can support our Big Boy Gulliver, mascot of Equine Voices. Join Gulliver's Fan Club and help make a difference in Gulliver's life! You will receive a special sticker, VIP tour, a personal meeting with Gulliver and updates as to the happenings at the sanctuary. Can you spare just .33 cents a day or one cup of coffee? To join this special program, Click Here and a short ways down the homepage on the right is "Gulliver's" Fan Club Sign Up or contact us at info@equinevoices.org, call the main office at 520-398-2814 or go online and sign up today. It's easy, fun and you will make a huge difference in Gulliver's life!!

–Thank You "Gulliver"
Shop At Amazon And Help The Horses!
Shop at Amazon.com


"Gulliver" would like to invite you to shop at our partners programs and help the horses at the same time! By shopping online at Amazon, you will have the satisfaction of knowing that 10 percent of your purchases will go to the horses of Equine Voices. It's simple, quick and convenient and you never have to leave your home. Click Here and find the Amazon Icon on the top of the homepage, right after the GFAS logo. Or just click on the icons below.

Thank You as always, for your continued love & support, "Gulliver" and Friends

---
Gulliver Fan Club
If you love Gulliver and would like to support the horses at Equine Voices Rescue & Sanctuary, please join "Gulliver's Fan Club". For only $10/month, you can be part of helping Gulliver spread the word about the plight of the foals bred for the PMU industry.
Join The Gulliver Fan Club!

Sponsor a Horse
Sponsoring a horse is a wonderful way to help if you have limited time, space or finances and can't commit to a life time of horse care. With the sponsorship, you will receive a beautifully framed picture of the horse you've chosen and their story. For an annual sponsorship you will also receive a beautiful Cowboys Collectible horse hair key chain. Colors and styles may vary based on availability.
Click Here to Sponsor!
For more info contact us at info@equinevoices.org