Toby is a 20 year old registered paint. This sweet horse is looking for that perfect person to sponsor or adopt him. He has been trained to ride, but due to his past he does need an experienced, patient person to care for him.

If you would like to sponsor Toby, please visit our website adoption page or sponsor page. To visit the sanctuary and meet Toby you can contact us at info@equinevoices.org or by calling 520-398-9312.

Heartfelt Greetings from Natural Horse Magazine!

Please allow us to introduce our publication to you. We're a slick, glossy, quarterly full color magazine with a primary focus (like you) of the well-being of the horse (and other animals), naturally.

We all love and respect the work Equine Voices Rescue is doing to help equines and want to share our magazine with you and your supporters. Therefore, we are extending a special offer for all Equine Voices staff, volunteers, adopters and supporters a free 1-Year Online subscription to Natural Horse Magazine. This is our way to thank you for all you do to support animals naturally.

In order to receive this special offer, visit our store by clicking here and use CODE: equinevoices2012 or call 928-634-5795.

Don't forget to visit and Like us on Facebook http://www.facebook.com/NaturalHorseMagazine

Naturally,
Lisa Ross-Williams
Publisher/Editor-In-Chief
www.naturalhorse.com
Prohibit "Suicide Racing" in Omak, Washington
Bobbe Stultz of Katonah, NY created a petition to Cindy Gagne, Mayor of the town of Omak, Washington. Asking to prohibit the "Suicide Race" that takes place there every August, because it puts horses at risk for serious injury and death. She is trying to collect 100 signatures, and she could sure use your help. To read more about what she is trying to do and to sign her petition, Click Here. It'll only just take a minute! Once you're done, please ask your friends, family and coworkers to sign the petition as well.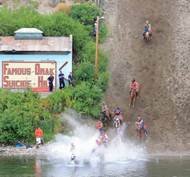 These horses need your help to petition the Mayor of Omak WA to stop this horrible practice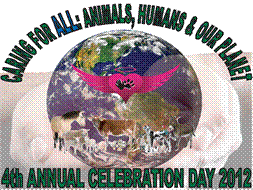 Sunday November 11th, 2012
The Hayley's Angels Foundation invites you to come celebrate all animals, humans and our planet! This event is FREE (except dinner) to the general public. Our attendance projection is more than 1000 people, with the event continuing to grow bigger and better every year! The event will be held in the Diamond Center at the Desert Diamond Casino (I-19 Pima Mine Rd Exit 80) on Sunday November 11th, from 1:30 PM to 7 PM. Our cruelty-free dinner is priced at ($25) per person. A portion (25%) of excess funding from the event will be distributed to participating non-profit groups who have been certified by the Hayley's Angels Methods. Equine Voices will have a booth at this event.
The anticipated schedule is as follows:
| | |
| --- | --- |
| 1:30 pm | Event opens |
| 1:30-4:30 pm | Silent auction |
| 3-3:30 pm | Joanne Lefebvre, DVM to give an inspiring 30 minute presentation about "Caring for ALL" and her book, "Animal Teachings from Hayley's Angels Methods" |
| 3:30-4:30 pm | Talent Show for ALL (humans/ animals) $5 to enter, two awards |
| 4:30-7:00 pm | Delicious cruelty-free vegan dinner, music and dancing to the rock band D.F.C. |
Come meet some very special animal friends! Dr. Lefebvre will be signing books throughout the event. We will be broadcasting on TV and on the internet! To purchase dinner tickets contact our office at 520-398-2814 or email info@equinevoices.org.
Leave a Legacy: Gulliver & Friends Legacy Fund
Consider Equine Voices as your charity of choice and help make a difference in the lives of the horses today and beyond by designating Equine Voices in your estate planning.
Visit our website for more information and how to give.

"Gulliver's" Fan Club
For just $10.00 a month (.33 cents a day), you can support our Big Boy Gulliver, mascot of Equine Voices. Join Gulliver's Fan Club and help make a difference in Gulliver's life! You will receive a special sticker, VIP tour, a personal meeting with Gulliver and updates as to the happenings at the sanctuary. Can you spare just .33 cents a day or one cup of coffee? To join this special program, Click Here and a short ways down the homepage on the right is "Gulliver's" Fan Club Sign Up or contact us at info@equinevoices.org, call the main office at 520-398-2814 or go online and sign up today. It's easy, fun and you will make a huge difference in Gulliver's life!!

Thank You "Gulliver"
Shop At Amazon And Help The Horses!
Shop at Amazon.com

"Gulliver" would like to invite you to shop at our partners programs and help the horses at the same time! By shopping online at Amazon, you will have the satisfaction of knowing that 10 percent of your purchases will go to the horses of Equine Voices. It's simple, quick and convenient and you never have to leave your home. Click Here and find the Amazon Icon on the top of the homepage, right after the GFAS logo. Or just click on the icons below.
Thank You as always, for your continued love & support, "Gulliver" and Friends

Don't forget to check in with Equine Voices new Blog - "Ramblings from the Ranch"...
click here to check it out!
---
Gulliver Fan Club
If you love Gulliver and would like to support the horses at Equine Voices Rescue & Sanctuary, please join "Gulliver's Fan Club". For only $10/month, you can be part of helping Gulliver spread the word about the plight of the foals bred for the PMU industry.
Join The Gulliver Fan Club!

Sponsor a Horse
Sponsoring a horse is a wonderful way to help if you have limited time, space or finances and can't commit to a life time of horse care. With the sponsorship, you will receive a beautifully framed picture of the horse you've chosen and their story. For an annual sponsorship you will also receive a beautiful Cowboys Collectible horse hair key chain. Colors and styles may vary based on availability.
Click Here to Sponsor!
For more info contact us at info@equinevoices.org