Taylor Is Looking For That Special Someone
To Sponsor Her

Taylor was rescued in July 2009 from a killer buyer in Phoenix. Taylor had a broken leg and was heading to slaughter the following day. After two painstaking surgeries, Taylor is being rehabilitated at the sanctuary. Taylor is a beautiful, sweet and lovable girl that is looking for that special person to sponsor her.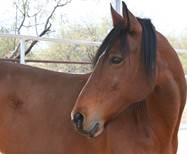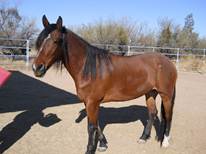 Hello, My Name Is Taylor And I
Would Love To Have You Sponsor Me.
If you would like to sponsor Taylor, please visit our website Sponsor page. To visit the sanctuary and meet Taylor you can contact us at info@ equinevoices.org or by calling 520-398-9312
West Meets East Event
If you live in or near New York, don't miss this fun family event to benefit Equine Voices. All proceeds will benefit the horses at the sanctuary. To reserve your tickets contact Cindy at 917-439-8614 or cpmarc@optonline.net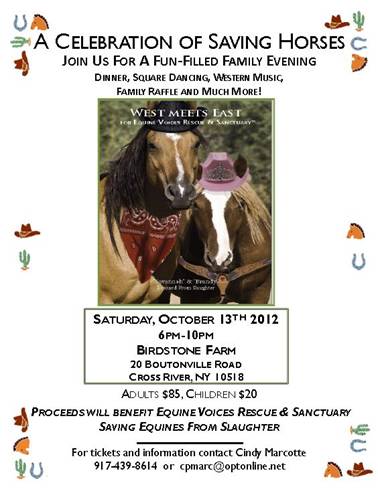 On Being Like a Child
Article by Jerry Finch of Habitat for horses

Back a zillion years ago the "ranch" existed in my backyard. At one point we had around 30 horses behind the house, and about half that many volunteers on a daily basis. One of them was a teenager who insisted that her mom had dragged her here, screaming and crying, to control her life. Probably so, because the girl had tried to commit suicide the week before. She was so heavy into the Goth subculture that her personality was black, and that aura certainly did nothing for her ability to interact with the horses. She pouted and stomped her feet, plopped down on the picnic table and refused to communication with anyone, dead or alive.
Until she met Nichol. To read more of this post Click Here. This is a must read article especially if you have a child, grandchild, niece, nephew or a friend.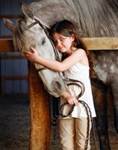 "HAPPY BIRTHDAY Cindy, Kristin and Barta"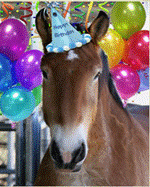 All of us at Equine Voices would like to wish Cindy Marcotte, Kristin Carrington and Barta Barnum a wonderful and very happy birthday!!!
Leave a Legacy: Gulliver & Friends Legacy Fund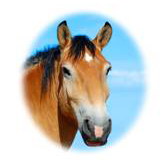 Consider Equine Voices as your charity of choice and help make a difference in the lives of the horses today and beyond by designating Equine Voices in your estate planning.
Visit our website for more information and how to give.

Shop from Gulliver's Wishlist on Amazon

Gulliver's Wishlist is on Amazon is. He has updated his wishlist with some of the much needed items for the horses and the ranch. Click Here to visit Gulliver's Wishlist on Amazon. Gulliver will continue to have his Sherpa, Nancy update his list with new items. If you have any ideas or suggestions you would like to let Gulliver know about that should be considered for addition to Gulliver's Amazon Wishlist, please email his Sherpa, Nancy at nancy@equinevoice.org
"Gulliver's" Fan Club
For just $10.00 a month (.33 cents a day), you can support our Big Boy Gulliver, mascot of Equine Voices. Join Gulliver's Fan Club and help make a difference in Gulliver's life! You will receive a special sticker, VIP tour, a personal meeting with Gulliver and updates as to the happenings at the sanctuary. Can you spare just .33 cents a day or one cup of coffee? To join this special program, Click Here and a short ways down the homepage on the right is "Gulliver's" Fan Club Sign Up or contact us at info@equinevoices.org, call the main office at 520-398-2814 or go online and sign up today. It's easy, fun and you will make a huge difference in Gulliver's life!!

Thank You "Gulliver"
Shop At Amazon And Help The Horses!
Shop at Amazon.com

"Gulliver" would like to invite you to shop at our partners programs and help the horses at the same time! By shopping online at Amazon, you will have the satisfaction of knowing that 10 percent of your purchases will go to the horses of Equine Voices. It's simple, quick and convenient and you never have to leave your home. Click Here and find the Amazon Icon on the top of the homepage, right after the GFAS logo. Or just click on the icons below.
Thank You as always, for your continued love & support, "Gulliver" and Friends

Don't forget to check in with Equine Voices new Blog - "Ramblings from the Ranch"...
click here to check it out!
---
Gulliver Fan Club
If you love Gulliver and would like to support the horses at Equine Voices Rescue & Sanctuary, please join "Gulliver's Fan Club". For only $10/month, you can be part of helping Gulliver spread the word about the plight of the foals bred for the PMU industry.
Join The Gulliver Fan Club!

Sponsor a Horse
Sponsoring a horse is a wonderful way to help if you have limited time, space or finances and can't commit to a life time of horse care. With the sponsorship, you will receive a beautifully framed picture of the horse you've chosen and their story. For an annual sponsorship you will also receive a beautiful Cowboys Collectible horse hair key chain. Colors and styles may vary based on availability.
Click Here to Sponsor!
For more info contact us at info@equinevoices.org