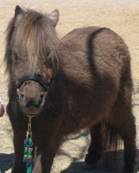 Hello, My Name Is Pirate And I
Would Love To Have you Sponsor Me.
Pirate is an older mini who was rescued after his owner was forced to find a home for him. He is twenty seven years old and will live out his life at the sanctuary. This handsome fella has captured the hearts of many of the volunteers, visitors and his barn mate, Taylor. Pirate is one of the only horses that does not have a sponsor. Won't you consider sponsoring this adorable horse?

If you would like to sponsor Pirate, please visit our website sponsor page. To visit the sanctuary and meet Pirate you can contact us at info@equinevoices.org or by calling 520-398-9312.
Boutique & Wine Tasting Benefit Reminder
Only A Little Over A Week left before this evening of fun Don't miss out. There is still time to RSVP.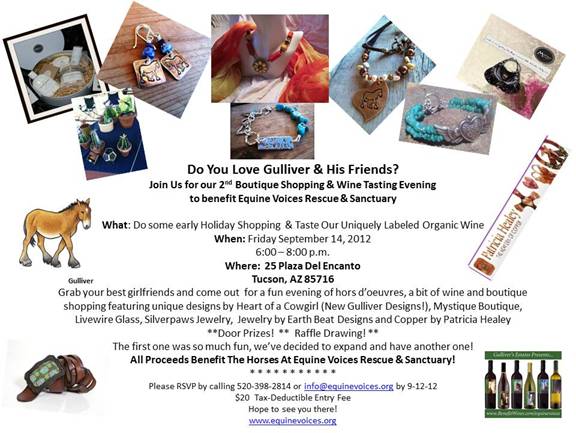 "HAPPY BIRTHDAY MO"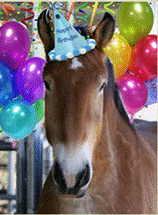 All of us at Equine Voices would like to wish Mo Grace a wonderful and very happy birthday!!!
"The Moment of Truth, Saving America's Horses"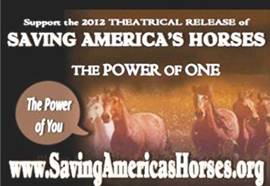 SOON TO BE RELEASED

SAVING AMERICA'S HORSES is a powerful feature length documentary film that has garnered massive support for its deeply passionate look into the world of both wild and domestic horses; their connection to our history and the future of humanity.

This touching and empowering movie is receiving rave reviews and has won multiple international awards at film festivals. It's a brilliant and hard hitting exposé that reveals the interaction of government agencies, corporate interests, and the laws that are supposed to protect the horses, the public and the environment. SAVING AMERICA'S HORSES engages its viewers through the majesty of the horse, the freedom they represent, the value of that freedom and what it means to life on our planet.

Click here for more information. You can also Click here to visit the Saving America's Horses website and if you would like to donate, as it will help bring this important educational resource to public theatrical release

Click Here to see the "The Moment of Truth", clip inspired by viewers of "SAVING AMERICA'S HORSES". If you are moved by this uplifting clip, be sure to share it with your friends, family and colleagues today.

Warning: Some Graphic Footage
Leave a Legacy: Gulliver & Friends Legacy Fund
Consider Equine Voices as your charity of choice and help make a difference in the lives of the horses today and beyond by designating Equine Voices in your estate planning.
Visit our website for more information and how to give.

Shop from Gulliver's Wishlist on Amazon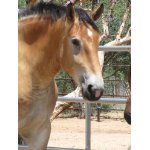 Gulliver's Wishlist on Amazon is back up and running. His wishlist has been updated with some of the items that are much needed for the horses and the ranch. Click Here to visit Gulliver's Wishlist on Amazon. Gulliver will continue to have his Sherpa, Nancy update his list with new items.
"Gulliver's" Fan Club
For just $10.00 a month (.33 cents a day), you can support our Big Boy Gulliver, mascot of Equine Voices. Join Gulliver's Fan Club and help make a difference in Gulliver's life! You will receive a special sticker, VIP tour, a personal meeting with Gulliver and updates as to the happenings at the sanctuary. Can you spare just .33 cents a day or one cup of coffee? To join this special program, Click Here and a short ways down the homepage on the right is "Gulliver's" Fan Club Sign Up or contact us at info@equinevoices.org, call the main office at 520-398-2814 or go online and sign up today. It's easy, fun and you will make a huge difference in Gulliver's life!!

Thank You "Gulliver"
Shop At Amazon And Help The Horses!
Shop at Amazon.com

"Gulliver" would like to invite you to shop at our partners programs and help the horses at the same time! By shopping online at Amazon, you will have the satisfaction of knowing that 10 percent of your purchases will go to the horses of Equine Voices. It's simple, quick and convenient and you never have to leave your home. Click Here and find the Amazon Icon on the top of the homepage, right after the GFAS logo. Or just click on the icons below.
Thank You as always, for your continued love & support, "Gulliver" and Friends

Don't forget to check in with Equine Voices new Blog - "Ramblings from the Ranch"...
click here to check it out!
---
Gulliver Fan Club
If you love Gulliver and would like to support the horses at Equine Voices Rescue & Sanctuary, please join "Gulliver's Fan Club". For only $10/month, you can be part of helping Gulliver spread the word about the plight of the foals bred for the PMU industry.
Join The Gulliver Fan Club!

Sponsor a Horse
Sponsoring a horse is a wonderful way to help if you have limited time, space or finances and can't commit to a life time of horse care. With the sponsorship, you will receive a beautifully framed picture of the horse you've chosen and their story. For an annual sponsorship you will also receive a beautiful Cowboys Collectible horse hair key chain. Colors and styles may vary based on availability.
Click Here to Sponsor!
For more info contact us at info@equinevoices.org