Horse Of The Week

Toby: Handsome, registered paint gelding.
Age: 15 years
Qualities: Very smart, has been ridden, friendly.
Needs: Experienced rider, lots of kindness and
TLC, companion animal.
Fee: $750
Contact: Equine Voices Rescue & Sanctuary;
520-398-2814; info@equinevoices.org
Equine Voices Holiday Open House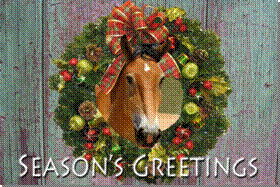 When: December 10, 2011
2:00 pm - 6:00pm
Where: Equine Voices Rescue & Sanctuary
Amado, AZ
What: Come and celebrate the Holiday Season with us. Take a tour, meet "Gulliver" mascot and symbol of rescue, relax and enjoy food, music and celebrate our new Equine Voices Memorial Garden. Shop for gifts in Gulliver's Gift Shop. For more information contact us at info@equinevoices.org or call the office at 520-398-2814
The Heroes Are You

My Heroes
by Jean H. Welch
We watch you drive in through the gate smiling
as you anticipate
the work at hand, the tasks ahead -
why aren't you people still in bed?

You sweep and tidy storage sheds,
when you should be cozy in your beds.
You scrub the water troughs with care
and tend to the needs of a frightened mare.

It's your day off but still you come
knowing full well when the work is done
that you'll be sweaty, tired and sore
but still you always come back for more.

I often wonder what it is
that brings you to a place like this
and work your butts off every day.
Here is what you had to say.....

It's like a gym, it keeps me fit,
My golf game's improved because of it.
It's a healing place, can't you see?
It's kind of equine therapy.

But the real reason we keep coming back
is to get these horses back on track -
to gently guide them through their strife
so they can have a better life.

The horses know you love them too.
They see it in the things you do.
You clean their wounds and rake up hay.
You honor them in every way.

Your dedication, strength and drive
is what keeps this rescue ranch alive.
I stand in awe of your steadfast will.
There are not many who could fit the bill.

So I salute you Volunteers,
for all your help throughout the years.
You are my Heroes, every one.
Thank you for a job well done!

Meet Letitia Frye our new auctioneer for our Fifth Annual Wine & Dine Gala. To donate to our Silent and Live auction please contact the office at 520-398-2814 or email info@equinevoices.org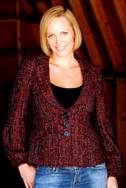 Letitia Frye has been in the auction business for the past eight years. Although Letitia sells at several different types of auctions, Charity benefits are her specialty. Letitia has had the pleasure of working with several high end celebrity events as well as grass roots fundraisers. As a former professional model, Letitia brings a unique quality and elegance to the stage. Known for her quick banter and uncanny ability to memorize content, Letitia is truly one of a kind in her field.
Letitia received her formal training at The Western College of Auctioning in Billings Montana, and The Certified Auctioneer institute at Indiana University. She is an instructor of benefit auctions at The Auctioneers and Appraisers Auction Academy in Phoenix. Letitia truly enjoys being a part of the fund raising process, and brings a great deal of experience both as an auctioneer and active philanthropist in the community. Letitia is an active member of The National Auctioneers Association and was a finalist in the 2009 NAA International Bid Calling Championship, she is also a principal in reality series Auctioneer$ on Planet Green.
Don't forget to check in with Equine Voices new Blog!
click here to check it out!
---
Gulliver Fan Club

If you love Gulliver and would like to support the horses at Equine Voices Rescue & Sanctuary, please join "Gulliver's Fan Club". For only $10/month, you can be part of helping Gulliver spread the word about the plight of the foals bred for the PMU industry.
Join The Gulliver Fan Club!

Sponsor A Horse 

For those of you who can't adopt, why not consider sponsoring one of Equine Voices' horses. For only $50/month you can help feed one of these amazing horses. You will receive his/her photo, story and handmade key chain from his/her tail.
Join now!