Mystic Is Looking For That Special Someone

Mystic is a 13 year old beautiful, white, draft-cross mare and is looking for a forever home or that special sponsor. Won't you consider adopting or sponsoring Mystic?

If you would like to adopt or sponsor Mystic, please visit our website sponsor page by Clicking Here, or our adoption page by Clicking Here. You also can email us at info@ equinevoices.org or call the office at 520-398-9312 with any questions or if you would like to come and meet Mystic.
Mikey Has Been Adopted To His Forever Home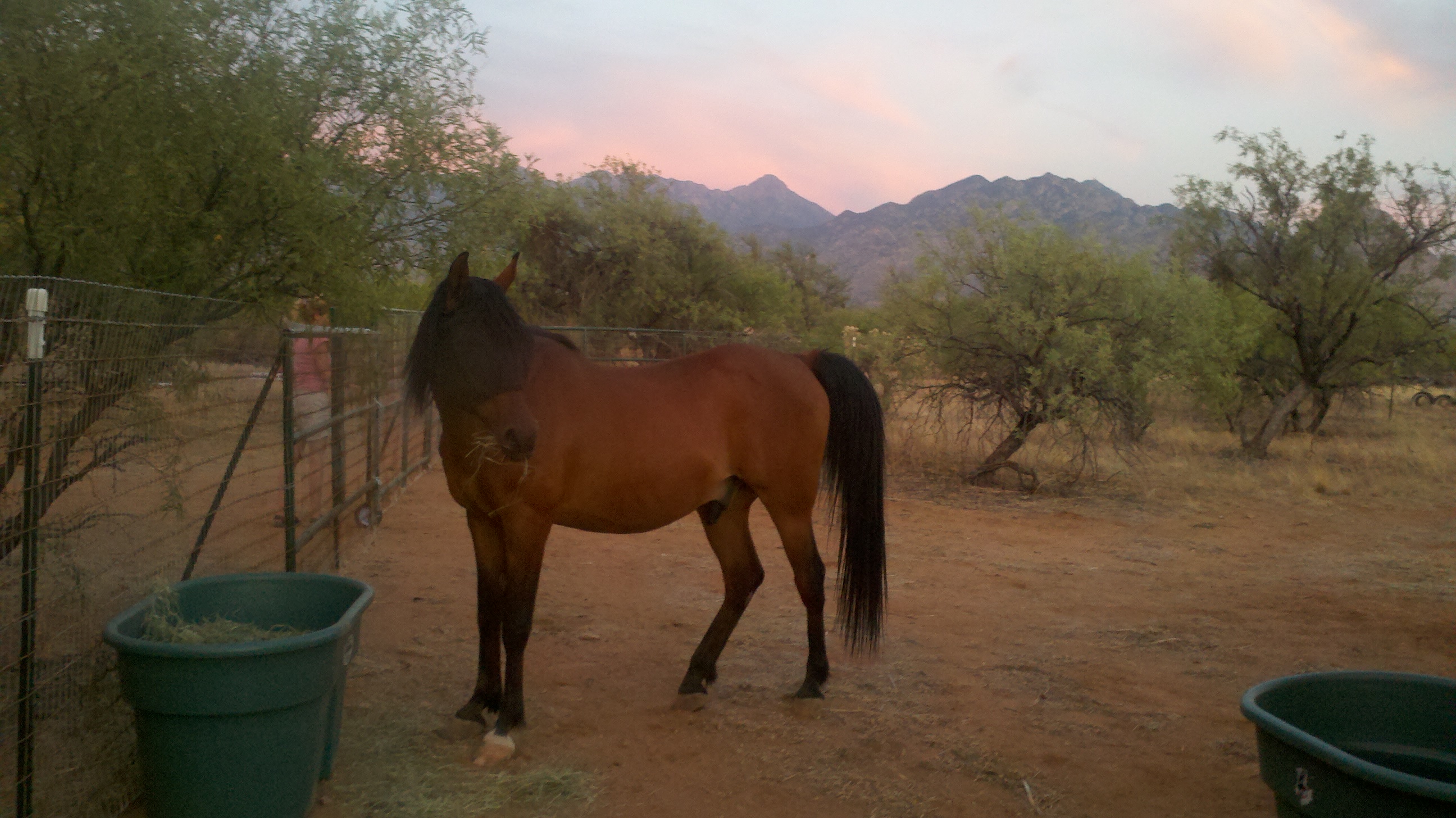 As a weekend volunteer at Equine Voices there are many opportunities to fall in love with a horse. They all have such different personalities, looks, and qualities; they are all loveable in some way. Mikey was different to me; Mikey stole my heart. From his little gray nose to his big brown eyes and his way of being completely aloof with me yet so touchingly drawn to my son when he was going through turmoil, I was drawn to him. It doesn't hurt that he is a strikingly beautiful horse either. I got close to Mikey by doing weekly grooming sessions with him. I also had the opportunity to do ground work classes with Mikey at Equine Voices. He has taught me so much just by being my subject in these activities that I feel very capable around other horses as a result.

It is a great feeling to wake up, go outside, and have a horse be there happy to see you. Another benefit is the outdoor exercise I'm getting from it with the feeding, mucking, walking, and grooming. I have waited my whole life to have a horse and Equine Voices paved the way to that dream becoming a reality.

Written By Angie Wilson, Mikey's new adoptive Mom
REMEMBER CHAMP – THE STALLION WHO SAVED THE FILLY IN THE RIVER? Well… He and his herd are in trouble. Let's help!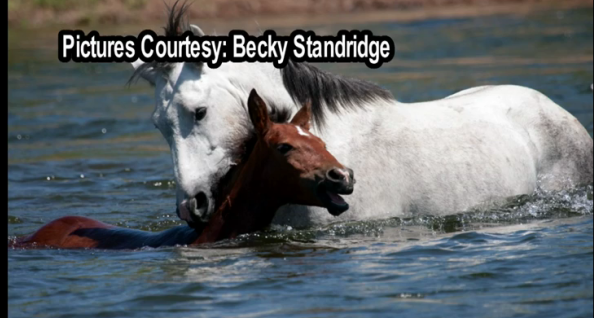 Some of you probably remember this dramatic photo of Champ saving the filly... click image to read the story. If you don't remember the stallion who saved the filly in the Salt River in Arizona when she got in over her head? He pulled her to safety and the feat was recorded by a nearby human, Becky Standridge. In case you missed it, here is the blog about it.

BAD NEWS FOR CHAMP AND HIS HERD – MEAT.

Well, as with most of the wild mustangs out there, their time has come to be rounded up -Except this time it is worse because Champ's herd is not classified as 'wild' so they are not protected under any laws. They are classified as 'feral'. Feral means that they can be rounded up and sold for meat. That's it. No one would ever know… the horses would be gathered and 'poof' – gone. Fortunately, some individuals are very persistent and under the Freedom of Information Act, they have found out that Champ's herd is headed down the path of no return. To see more pictures, to read more on this article and for WHAT YOU CAN DO – NOW! TODAY IS A GOOD DAY FOR THIS… Click Here.

Please act today to save Champ and his herd
"Gulliver's" Fan Club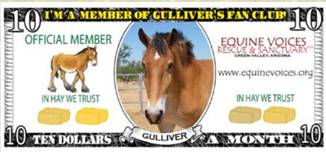 For just $10..00 a month (.33 cents a day), you can support our Big Boy Gulliver, mascot of Equine Voices. Join Gulliver's Fan Club and help make a difference in Gulliver's life! You will receive a special sticker, VIP tour, a personal meeting with Gulliver and updates as to the happenings at the sanctuary. Can you spare just .33 cents a day?? To join this special program, Click Here and find the link or contact us at info@equinevoices.org, call the main office at 520-398-2814. It's easy, fun and you will make a huge difference in Gulliver's life!
How you can shop and help the horses through our Partners Program
Shop at Amazon.com

"Gulliver" would like to invite you to shop at our partners programs and help the horses at the same time! By shopping online at Amazon, you will have the satisfaction of knowing that 10 percent of your purchases will go to the horses of Equine Voices. It's simple, quick and convenient and you never have to leave your home. Click Here and find the Amazon Icon on the top of the homepage, right after the GFAS logo. Or just click on the icons below.
Thank You as always, for your continued love & support, "Gulliver" and Friends

Don't forget to check in with Equine Voices new Blog - "Ramblings from the Ranch"...
click here to check it out!
---
Gulliver Fan Club
If you love Gulliver and would like to support the horses at Equine Voices Rescue & Sanctuary, please join "Gulliver's Fan Club". For only $10/month, you can be part of helping Gulliver spread the word about the plight of the foals bred for the PMU industry.
Join The Gulliver Fan Club!

Sponsor a Horse
Sponsoring a horse is a wonderful way to help if you have limited time, space or finances and can't commit to a life time of horse care. With the sponsorship, you will receive a beautifully framed picture of the horse you've chosen and their story. For an annual sponsorship you will also receive a beautiful Cowboys Collectible horse hair key chain. Colors and styles may vary based on availability.
Click Here to Sponsor!
For more info contact us at info@equinevoices.org