Gulliver Fan Club
If you love Gulliver and would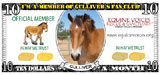 like to support the horses at Equine Voices Rescue & Sanctuary, please join "Gulliver's Fan Club". For only $10/month, you can be part of helping Gulliver spread the word about the plight of the foals bred for the PMU industry.
Join The Gulliver Fan Club!
Sponsor a Horse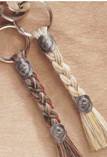 Sponsoring a horse is a wonderful way to help if you have limited time, space or finances and can't commit to a life time of horse care. With the sponsorship, you will receive a beautifully framed picture of the horse you've chosen and their story. For an annual sponsorship you will also receive a beautiful Cowboys Collectible horse hair key chain. Colors and styles may vary based on availability.
Click Here to Sponsor!
For more info contact us at info@equinevoices.org