Equine Voices' 8th Annual "A Very Special Horse Event"



When: March 31, 201211:30 am – 3:30 pm
Where: Brandi Fenton Memorial Park
3482 East River Road, Tucson, Az.

What: Celebrate the Rescue – Rehabilitation – Recovery of Equine Voices' Horses. Come and watch our special horses during our horse program, silent auction, live dessert auction, Gulliver's Gift Shop, Special VIP Guest Jennifer Waddell from KGUN 9 News, authors Juanita Havill-"Call The Horse Lucky" and Deanne Stillman-"Mustang: The Saga Of The Wild Horse in the American West", Face Paint Amy, food from vendors such as Quesadillas & More ,and Grandma Tony's Pizza

$5.00 adult admission includes 1 free raffle ticket 13 and under FREE

A Fun Filled day for ALL ages "Not Just for Horse People"

For additional event info call Carol at 520-749-4026 or Nancy at 520-887-8851

To donate or volunteer Click Here to visit our website or for: Auction & Raffle Donations: call or email Nancy at 520-887-8851 / nacha04@msn.com Donations are gratefully accepted and are tax deductible.
or
To Volunteer at this event: call or email Diane at 520-207-9504 / az-hiker@cox.net orConnie Thomson at 520-269-7048 / connyshonie@gmail.com

Update on the babies and
Anna Twinney's Foal Gentling Clinic

A Comprehensive Week of Foal Gentling with Anna
February 20th - 25th, 2012
Equine Voices Rescue & Sanctuary, Tucson, AZ

A once-in-a-life-time experience is coming to us here at Equine Voices! We all know it takes a village to save the lives of the foals and this year everyone came together to fund-raise, ship and take care of 15 foals. 8 foals were gentled by Anna Twinney and her trainer students in CT last November – their foal diary can be seen directly on our website. Never before have we had the opportunity to host a foal gentling course, and who knows if this will be possible again? This truly is a chance of a life-time to be part of unique class not offered anywhere else in the States, coached by a world-renowned horse whisperer! For all those showing interest in helping the foals or wishing to handle them after Anna's departure we HIGHLY recommend you attend this class as a spectator. Watch as the foals transform from feral foals to foals in training. The chance to be part of the EV handling team will depend on personal abilities and experience. It takes extreme skill to gentle foals, being untouched, innocent and influenced, they require experience handlers. This class will assist you in the next step towards your training and you will be recognized for your interest and commitment. For more information on the clinic

Click Here
<![if !vml]><![endif]> Help For Sonny <![if !vml]> <![endif]>
<![if !vml]>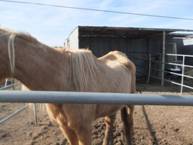 <![endif]> <![if !vml]>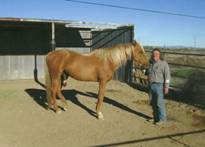 <![endif]>

Sonny was rescued in 2011 from starvation and abuse. The Paulden community came together to rescue Sonny and two other horses. Sonny was taken in by Jeff and Carol and has been cared for by them for over a year. Today, like so many other individuals, Jeff and Carol Kirkendall are losing their home. Sonny is a 9 year old, palomino stallion that is in need of surgery and a home. Sonny has an injury to his penis and cannot retract it into his sheath. The bottom eight inches were so severely infected that now it's hard scar tissue. Arizona Coalition for Equines (ACE) has recently assisted this family by providing hay for Sonny and Equine Voices has committed to helping raise the necessary funds for Sonny's surgery. Dr. Taylor of Arizona Equine will perform the surgery which is estimated to cost $1,500 including having him gelded and the cost for after care. Sonny will be available for adoption once he has healed from the surgery. Please help us help Sonny by donating to the "Sonny Surgery" fund. Any amount will make a huge difference in the life of this beautiful horse.
<![if !vml]><![endif]>
To donate by PayPal Click Here or to donate by check you can mail a check to:
Equine Voices
PO Box 1685
Green Valley Az. 85622 Or call 520-398-9312 to donate

Please indicate your donation is for Sonny. Thank you for your support!
<![if !vml]> <![endif]> Update On Nicholas aka "Nick" <![if !vml]> <![endif]>

<![if !vml]><![endif]> <![if !vml]><![endif]> For all of you who have been following Nick's story, you will be thrilled to know that he is continuing to heal. Nick is full of life and last Sunday was happy to go for a walk with Kristin his weekend caretaker. We continue to raise the necessary funds to support his treatments and continue to have hope that this wonderful horse will someday live a life free of cancer, burn injuries and one without the memory of the horrible fire he was in. Nick still needs monthly medicines, herbs, supplements and medical supplies. If you can help Click Here to donate, please indicate your donation is for Nick. You can also buy one of his special bracelets "Love, Light & Healing for Nick" to help offset his medical costs by clicking here. <![if !vml]> <![endif]>
With heartfelt gratitude to all of you who continue to support Nick through your prayers, donations, care and love, you are truly Nick's Angels!
<![if !vml]> <![endif]>

<![if !vml]> <![endif]> <![if !vml]> Nick Before


Nick Now <![endif]>
<![if !vml]> <![endif]> SAVE THE DATE <![if !vml]> <![endif]> <![if !vml]><![endif]>

Equine Voices' Sixth Annual Wine & Dine Gala is scheduled for October 28, 2012 at The Historic Arizona Inn. Seats are limited, so make your reservations soon.

More information to come!
<![if !vml]><![endif]> <![if !vml]> <![if !vml]>

<![endif]> <![endif]>
Speak Up for Arizona Burros, Pancake Roundup Report, U.S. House Passes NC Mustang Protection Bill & Other News
*************************************************************************************
News
U.S. House Unanimously Approves Bill to Protect Wild Horses on North Carolina's Outer Banks
<![if !vml]>
<![endif]> Yesterday, the U.S. House of Representatives unanimously passed the Corolla Wild Horses Protection Act. The legislation will increase the size of this historic herd of colonial Spanish mustangs on North Carolina's Outer Banks in order to improve population's genetic diversity and long-term viability. Kudos to the Corolla Wild Horse Fund, an AWHPC coalition partner, for its hard work in achieving this milestone. Read more click below.



To learn even more and To Take Action Now Click Here
<![if !vml]> <![endif]>
Don't forget to check in with Equine Voices new Blog - "Ramblings from the Ranch"...
click here to check it out!
---
Gulliver Fan Club
If you love Gulliver and would like to support the horses at Equine Voices Rescue & Sanctuary, please join "Gulliver's Fan Club". For only $10/month, you can be part of helping Gulliver spread the word about the plight of the foals bred for the PMU industry.
Join The Gulliver Fan Club!

Sponsor a Horse
Sponsoring a horse is a wonderful way to help if you have limited time, space or finances and can't commit to a life time of horse care. With the sponsorship, you will receive a beautifully framed picture of the horse you've chosen and their story. For an annual sponsorship you will also receive a beautiful Cowboys Collectible horse hair key chain. Colors and styles may vary based on availability.
Click Here to Sponsor!
For more info contact us at info@equinevoices.org