Equine Voices' 8th Annual "A Very Special Horse Event" <![if !vml]>

<![endif]>

Gulliver is working with his trainer Carol Grubb to prepare for the upcoming annual fundraiser at Brandi Fenton Memorial Park to be held on March 31st and he needs your help! Volunteers are needed to work the event and donations are also needed for the silent auction and raffle. To volunteer or to donate please Click Here.

Thank you,

Gulliver & Friends

Our Six Christmas Foals Have Graduated From Anna Twinney's Foal Gentling Clinic!

The Foal Gentling in Arizona was so beautiful. Six innocent beings were entrusted to six humans in hopes of gentling them and giving them the skills necessary to make them adoptable. Anna was, of course, masterfully involved in keeping the course on track while working with each foal and student in just the way necessary to take them to the next level in their training. Every foal and student spent six days in sessions designed to give them just what they needed. Regardless of the task or the outcome of the lessons it seemed that everyone had an intimate relationship with their foal that was life changing for the horse and probably equally for the human. It was wonderful to go away knowing that we had influenced these babies lives in way that brought them closer to trusting people and certainly gave them a greater chance to be adopted into their forever homes. It was an experience for me that changed my life, for now I can honestly say that I trained a horse as I did train my foal to recognize respect and kindness from a human and I learned from him to hear the whispers and the language of Equus.

In gratitude and thanks for all that you do for the horses, Lauren Munger

I had the extraordinary opportunity to work with Anna on gentling a PMU foal at Equine Voices Rescue in Green Valley AZ. This class challenged me to apply everything I had learned in Anna's modular foundation class and introduced me to the unique world of young, untouched horses. With Anna's coaching and demonstrations, I was able to help a PMU foal find value in human interaction, develop confidence in himself and set him up for success when he continues his training. Working with Karen and the volunteers at Equine Voices was both an education and a revelation. We were welcomed with open arms and had the chance to see how a well run rescue operates. Karen's vision is from the heart, and her execution shows her business savvy and her creativity. She is a role model for anyone wanting to help those with no voice.... Jan

Click Here to view snips of the clinic with Anna and her students. You can purchase the DVD set "Success Foals in Training™" with Anna Twinney, A 4-DVD Comprehensive Foal Gentling System by contacting us at info@equinevoices.org
<![if !vml]>

<![endif]>
<![if !vml]><![endif]> Help For Sonny <![if !vml]> <![endif]>
<![if !vml]> <![if !vml]>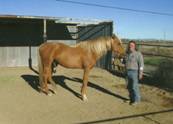 <![endif]> <![if !vml]>

<![endif]> <![endif]> <![if !vml]><![endif]>

On Monday February 27th, Sonny had his surgery and all went well. Thank you Dr. Taylor for helping Sonny and for giving us a discount of $480! Our goal is to raise $2,000 to cover the veterinary expenses. So far we have raised $1,200 thanks to Lynda Pierce and other supporters. If you can help us with Sonny's veterinary bill Click Here
or to donate by check you can mail a check to:
Equine Voices
PO Box 1685
Green Valley Az. 85622 Or call 520-398-9312
Please indicate your donation is for Sonny.

As always, thank you for your love & support!

Below please see the note from Jeff and Carol Kirkendall - Sonny's caretakers:

Dear Friends,

On Saturday, February 25th, 2012, my wife Carol and I met at our corral with our son Wolf and daughter-in-law Tressa Fowler, and our neighbors Bob and Lisa Ward. We were the original conspirators who took the starving Paulden horses one year and two months ago.

We laughed and cried, told stories and took pictures. We supervised in the loading of our beloved rescue-horse Sonny for his journey to Gilbert, Arizona for his genital-reconstruction surgery on Monday.

This new surgery phase of Sonny's recovery has been as moving to us in Paulden as was the original rescue. So many great people came together and made things happen so efficiently that it looked easy - a sign of true genius at work.

Our family's gratitude goes out to Karen Pomroy of Equine Voices Rescue & Sanctuary in Green Valley, Arizona. Where it not for you Karen, this could not have gotten off the ground. Your group's funding of Dr. Taylor of Arizona Equine Medical & Surgical Center in Gilbert, Arizona will change Sonny's life forever. Your good works has also touched Carol and me deeply.

A huge thank you to the Arizona Coalition for Equines for the ten bales of hay that sustained us this past many weeks. Thank you Carol Grubb for organizing the donation.

Thank you Paul & Melissa Ambrose of Atlasta Ranch & Livestock, Inc. in Chino Valley for coming over to check out Sonny on his ability to load in a trailer. What a great pleasure to meet outstanding neighbors doing outstanding work with horses.

A great big thank you and hug to Ruthanne Penn of Arizona Coalition for Equines out of Flagstaff for coming to transport Sonny. It really was a joy meeting you over the phone and talking through the details. Thank you for the way you handled Sonny and the way you handled me as I let go of my best four-legged friend. As you and Dave pulled out of our driveway, Carol and I cried with joy.

You all are a band of angels, and it has been a privilege and honor to share this experience.

Gratefully,

Jeff & Carol Kirkendall, and family
<![if !vml]><![endif]>
<![if !vml]> <![endif]> Another Successful Adoption! <![if !vml]> <![endif]>
<![if !vml]>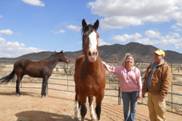 <![endif]> <![if !vml]>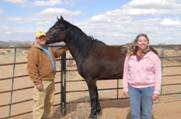 <![endif]>
<![if !vml]><![endif]> <![if !vml]><![endif]> Jaime and Wiley have been adopted by Larry & Julia Hamel. They arrived in their new home on Monday, Feb. 27th. They will live with their new friend Starr on 100 acres in Willcox, Az!!! We will provide updates on Jaime and Wiley as we receive them from Larry & Julia... Thank you Larry & Julia for giving them a wonderful forever home.

Note From Julia -

Starr got to meet the kids today two different times and did really well. Jamie is super bossy but Starr and Wiley are best buddies already. They all are doing great. A few more days and they will have it sorted out. I got Jamie's halter today so that is good. Now we can go for walks.

I lost my beloved horse, Denver (who was given to me 20 years ago by my now husband instead of an engagement ring!) Denver was a rescue that we took on. He was such a great horse and a good buddy. Our horse Starr has been almost more distraught as me in the emptiness of Denver's absence. Larry and I knew we had space in our hearts and lives for another horse. We began our search. I remembered seeing Equine Voices in the Arizona Daily Star newspaper and went to their website to poke around. The horse that caught my eye was Jamie. I was raised in the St. Louis area and I'm familiar with the Budweiser Clydesdales. I called Karen and scheduled an appt. to come to Equine Voices to see their facility and let Karen meet us. We were received graciously and given a full tour of the wonderful facilities. The entire staff were so incredibly dedicated. The horses are all well loved and cared for. While there we met Jamie and she was everything I had imagined, but we weren't expecting to fall in love with 2 horses. Wiley came up and stole our hearts. We went home and decided to try to adopt both. We have plenty of acreage and enough stalls for everyone. The day that Equine Voices agreed to the adoption I literally whooped for joy when Karen called with the good news.

We welcomed Jamie and Wiley into our lives on my birthday, February 27, 2012. It was such a great day! Wiley and Jamie are settling in nicely and Starr is loving his new buddies. I can't wait until I am able to turn them all together out to pasture and watch them get a good stretch of their legs. Stay tuned and happy trails.............
<![if !vml]> <![endif]>
<![if !vml]> <![endif]> How you can shop and help the horses through our partners <![if !vml]> <![endif]> <![if !vml]><![endif]>
Do you shop online with Amazon?? Do you love Gulliver and his friends?? By logging on to our website at www.equinevoices.org and clicking on the Amazon icon, a percent of your purchase will go directly to help the horses at Equine Voices Rescue & Sanctuary. Don't miss out on this wonderful opportunity to help our four legged equine friends!
<![if !vml]>

<![endif]> <![if !vml]>

<![endif]>

Can't find what you want on Amazon? How about shopping for unique gifts on Zazzle? For special Mother's Day gifts or a thank you to a special friend log on to our website at www.equinevoices.org and click on the Zazzle icon. Proceeds from your purchases will go directly to helping the horses in our care.
<![if !vml]>

<![endif]>
Don't forget to check in with Equine Voices new Blog - "Ramblings from the Ranch"...
click here to check it out!
---
Gulliver Fan Club
If you love Gulliver and would like to support the horses at Equine Voices Rescue & Sanctuary, please join "Gulliver's Fan Club". For only $10/month, you can be part of helping Gulliver spread the word about the plight of the foals bred for the PMU industry.
Join The Gulliver Fan Club!

Sponsor a Horse
Sponsoring a horse is a wonderful way to help if you have limited time, space or finances and can't commit to a life time of horse care. With the sponsorship, you will receive a beautifully framed picture of the horse you've chosen and their story. For an annual sponsorship you will also receive a beautiful Cowboys Collectible horse hair key chain. Colors and styles may vary based on availability.
Click Here to Sponsor!
For more info contact us at info@equinevoices.org