Maya is Looking for that Special Someone to Sponsor Her

Maya, is a gorgeous former PMU mare and was recently returned to the sanctuary along with three other adopted PMU horses. She is a 12 year old beauty and is looking for that special sponsor. Won't you consider sponsoring Maya? To sponsor Maya please visit our website by Clicking Here Thank you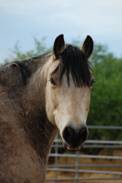 My name is Maya
I would love to have you
or sponsor me.
Our Latest Rescue "Sylvia"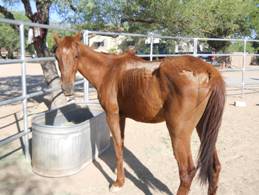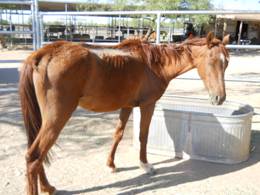 Meet Sylvia, rescued from starvation. This three year old filly was dumped at the auction pens in Nogales, Arizona and brought to us by the Livestock Department. Sylvia is currently at the sanctuary recovering. Thank you Lynda Pierce for naming Sylvia after your special grandmother! To donate toward Sylvia's care and recovery Click Here. Please be sure and enter Sylvia's name in the memo field. For more information about Sylvia please contact us at info@equinevoices.org or call our office at 520-398-9312.
New No-Fly

Zone Stall For "Nick"
Many of you know about Nick, our burn victim...the flies have been horrific and the other day Nick must have had a 1,000 flies on his back. His wounds were so irritated and bloody that we had to do something! I wanted to let you all know that Nick's stall is now fully enclosed and those pesky flies are nowhere near him. A heartfelt thank you to Mike Marshall and his son Nick from Creative Aluminum for creating a better environment for Nick. Thank you Barta, Nancy and Stella for donating toward his enclosure. If you would also like to help toward the cost of Nick's stall enclosure Click Here, and be sure and put in the memo Nick's Enclosure or you can call the office at 520-398-2814, or send a check to the ranch at: Equine Voices Rescue & Sanctuary, P.O. Box 1685, Green Valley, AZ 85622 Thank You, Karen

***************************************************************************************************

I had heard about Nick for quite some time, and after getting the opportunity to meet him I realized he needed some serious help. This is the time of year when the flies are horrible and no matter what type of fly control that is used, when a horse has an open wound the flies will find their way there. I was asked to take a look at Nick's stall to see if there was something I could do to enclose it, in order to reduce the fly population and to reduce the risk of infection. Nick's back was extremely irritated, and even with his topical ointment, fly spray and all the other preventative measures he was being treated with, he could not wait for a human to scratch his back. I realized early on, that Nick is one of the friendliest horses I had ever met, and I couldn't sit back and watch him suffer. I knew I needed to do something to help protect him from those nasty flies. After several days of thought on the subject, and some trial and error we finally came up with a plan and were able to screen in his stall. This way he can still see the other horses, has good ventilation and is protected from those pesky critters. Once we finished the enclosure, Karen brought Nick to his new stall and I knew I felt Nick say thanks. He looked over at me, and with a soft nudge he let me know how grateful he was. After 40 years of being a contractor I think I found my happiest customer, or at least I think I accomplished something special. I wish to thank Karen for the opportunity to help with this project, and to give Nick a sense of relief

Article By Mike Marshall-Creative Aluminum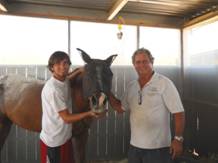 Thank You Nancy Fredrick and EasyCare
for the Easy Boots Donation
A HUGE thank you to Nancy Fredrick and EasyCare Inc. for their donation of dozens of Easy Boots to Equine Voices. We are forever grateful to EasyCare for all their support and for helping us help the horses by keeping them barefoot! There is a pair that even fit "Gulliver"! Thank you Nancy!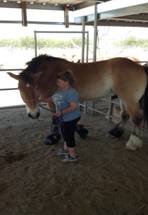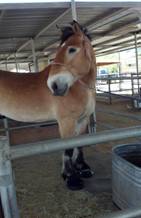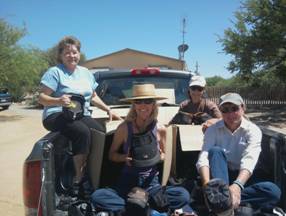 Don't forget to join us for a relaxing evening
to benefit Equine Voices' horses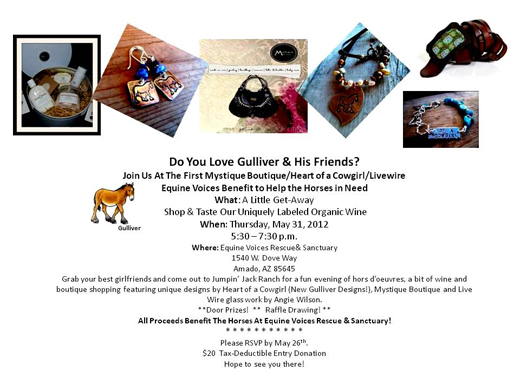 "Gulliver's" Fan Club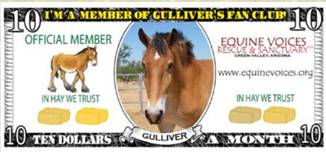 For just $10..00 a month (.33 cents a day), you can support our Big Boy Gulliver, mascot of Equine Voices. Join Gulliver's Fan Club and help make a difference in Gulliver's life! You will receive a special sticker, VIP tour, a personal meeting with Gulliver and updates as to the happenings at the sanctuary. Can you spare just .33 cents a day?? To join this special program, Click Here and find the link or contact us at info@equinevoices.org, call the main office at 520-398-2814. It's easy, fun and you will make a huge difference in Gulliver's life!
How you can shop and help the horses through our Partners Program
Shop at Amazon.com

"Gulliver" would like to invite you to shop at our partners programs and help the horses at the same time! By shopping online at Amazon, you will have the satisfaction of knowing that 10 percent of your purchases will go to the horses of Equine Voices. It's simple, quick and convenient and you never have to leave your home. Click Here and find the Amazon Icon on the top of the homepage, right after the GFAS logo. Or just click on the icons below.
Thank You as always, for your continued love & support, "Gulliver" and Friends

Don't forget to check in with Equine Voices new Blog - "Ramblings from the Ranch"...
click here to check it out!
---
Gulliver Fan Club
If you love Gulliver and would like to support the horses at Equine Voices Rescue & Sanctuary, please join "Gulliver's Fan Club". For only $10/month, you can be part of helping Gulliver spread the word about the plight of the foals bred for the PMU industry.
Join The Gulliver Fan Club!

Sponsor a Horse
Sponsoring a horse is a wonderful way to help if you have limited time, space or finances and can't commit to a life time of horse care. With the sponsorship, you will receive a beautifully framed picture of the horse you've chosen and their story. For an annual sponsorship you will also receive a beautiful Cowboys Collectible horse hair key chain. Colors and styles may vary based on availability.
Click Here to Sponsor!
For more info contact us at info@equinevoices.org